Armstrong Packaged Intelligent Pump Solutions Improve Energy Efficiency
Armstrong has launched a series of pre-designed packaged pump solutions that offer specifiers lowest first installed cost, reduced footprint and the opportunity for outstanding energy efficiency performance.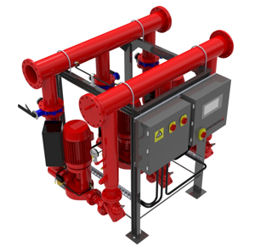 The new 8000 Series (Image: Armstrong)
Pumps, pipework, controls and motive power are fully-integrated and the packages are manufactured off-site, for fast, efficient installation.
The traditional approach to purchasing a pumping system is to procure pumps, pipework and controls separately, and build the system on site. As a leading supplier of off-site manufactured packaged plant and integrated plantrooms, Armstrong is extremely experienced in offering a more effective option. The new 8000 Series of Fully Integrated Pumping Modules however takes this a step further.
The new 8000 Series are complete fluid management systems, pre-designed and pre-assembled by Armstrong, that can be configured to suit the widest range of applications, with a choice of four levels of control. Costs involved in designing the system are removed, and as the pump solutions are designed by Armstrong (a world-leading manufacturer of HVAC equipment with almost 80 years experience in pump design) they offer the best possible integration of pumps with controls technology for exceptional performance.
In addition, as the pump package is fully assembled and tested before it leaves Armstrong's factory, many potential project risks are eliminated. Poor system integration during installation is avoided, and the pump solution can be manufactured concurrently with other parts of the construction or refurbishment project to reduce the schedule significantly, at the same time as avoiding delays or bottle-necks that might occur on-site. These factors combine to offer specifiers a high-performance product solution, at the lowest first installed cost, with reduced risk and shorter installation times.
Suitable for the full range of applications
The four options encompass the widest range of requirements – from pump-only to fully controlled pumping systems.
8001 Series FMS (Fluid Management System) - the most basic option – is a traditional-style fixed speed packaged pump set without controls or variable speed drives.
8002 Series IVS (Intelligent Variable Speed) is a variable speed packaged pump set. It incorporates Armstrong's extremely popular IVS pumps with motor mounted inverters that are capable of being controlled to meet demand.
8003 Series IVS (Intelligent Variable Speed Sensorless) also incorporates Armstrong IVS variable speed pumps with motor mounted inverters. It utilises sensorless control, reducing the requirement for sensors in the systems, and automatically matches the pump speed to the building load without BMS control. This option is particularly suited to duty/standby applications (up to 90kW) and includes a set mounted control panel that shares the load of the duty pump and relays alarms to the BMS. It is suitable for single zone control.
8004 Series IPS (Integrated Pumping System) is capable of controlling up to 18 zones and includes Armstrong's set mounted IPS (Integrated Pumping System) which is fully wired and pre-commissioned to the pumps within the set. The system is capable of operating outside of BMS control and can communicate to the BMS via Modbus as standard. Lonworks, BACnet and other protocols are also available on request.
Control
The 8000 range is based on the pump manufacturer determining how the pumps are controlled. This is accepted best practice for energy efficiency, equipment life, and simplicity of installation and commissioning, further reducing risk and carbon emissions.
Accountability
Finally, an important benefit of the 8000 Series is that it provides a single source of responsibility for the entire process of design, procurement, supply, installation, commissioning, service and maintenance. In addition to being a technically-superior approach to equipment supply, this offers significant commercial advantages by offering a shorter, simplified and more robust supply chain for any project.
Space saving
The 8000 Series harness the space-saving advantages of Armstrong vertical in-line pumps, Suction Guides and Flo-Trex valves, to reduce plant room footprint. Provision of 3D and 2D drawings upon quotation gives designers the opportunity to optimise the available space and to accurately lay out the plant room in the early stages of a project for smoother installation.