Armstrong Off-Site Manufactured Fire Pumphouse Speeds The Way For Carpetright
Supply of an off-site manufactured fire pumphouse has helped flooring retailer Carpetright to complete its amalgamation of distribution sites in a shorter time, with minimum site traffic and reduced risk of project delays.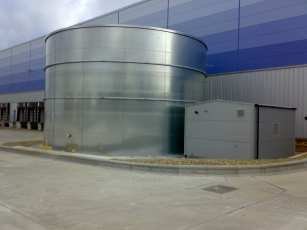 Armstrong
Carpetright plc is Europe's leading specialist carpet and floor covering retailer, trading from over 400 stores and concessions in the UK and Ireland, as well as 89 stores in Holland and Belgium. The company imports large rolls of flooring material, mainly from mainland Europe, and has extensive warehousing capability in the UK where carpets and vinyls are stored and cut, to supply retail outlets and meet customer orders.
During 2008 Carpetright carried out a consolidation of its storage sites with the amalgamation of its stock at a large warehouse in Purfleet, Essex. The building itself is about five years old, but Carpetright needed to carry out the necessary work to make it suitable for a major distribution depot. The company approached Nuform Fire UK Limited to install a high-tech fire-protection sprinkler system at the site, and it was decided that an off-site manufacture approach would have major benefits for this large distribution depot.
Instead of having individual components delivered to the site in the traditional way and building the fire pumphouse at the warehouse, Nuform approached Armstrong – specialists in the off-site manufacture of fire and HVAC plant rooms. The diesel fire package, which is compliant with Factory Mutual standards, was assembled by Armstrong at its purpose-designed factory in Halesowen, West Midlands. After assembly and testing, Armstrong delivered the fire pump package to Purfleet fully-assembled, in its own enclosure, and requiring only final connections.
Manufacturing the pumphouse off-site enabled construction of the fire protection facilities to proceed concurrently with the rest of the building refit. On the date specified by the on-site project team, the pumphouse was delivered and final installation was achieved within days, instead of requiring a number of weeks. As compliance testing of the pumps could be carried out while the assembled pump package was in the factory, the time needed for commissioning was also reduced.
This approach reduced the amount of contractor access necessary at the site, and helped to minimise traffic congestion in this busy part of Essex. In addition, health and safety risk was significantly reduced, as the plant room was built in the more easily controlled and regulated environment of a purpose-designed factory rather than on-site at the warehouse.
Armstrong supplies an extensive range of fire protection equipment manufactured to international standards. The company carries certification from all relevant regulatory and advisory bodies in the UK, USA and Canada including EN12845 accredited pumps for European installations and models approved by the Factory Mutual Research Corporation, Underwriters Laboratories Inc, Underwriters Laboratories of Canada and Loss Prevention Certification Board.
Steve Cooper of Armstrong said, "Off-site manufacture of the pumphouse enabled the rest of project to proceed more smoothly with fewer contractors on site. The manufacturing approach saved valuable time and enabled this major retailer to be up and running with its new distribution depot as soon as possible."