Armstrong Integrated Heating Solution for University Reduces Energy Costs and Carbon Impact
The installation of an Armstrong MBS integrated heating solution at the University of Wolverhampton has delivered a carbon reduction of 224 tonnes, and saved almost £11,000 in fuel bills and reduced carbon credits, over the first 18 month period.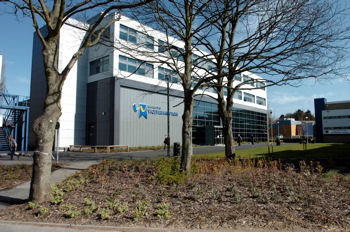 University of Wolverhampton (Image: Armstrong)
The University of Wolverhampton is an extremely popular educational site with a student population in the region of 23,000. As part of its expansion programme, the University constructed a new building on its Walsall Campus providing additional teaching space (including new lecture theatres) and offices. The five existing boiler houses at the campus did not have sufficient capacity to supply the new multi-storey building efficiently, and a new, self-contained boiler house was specified.
The intended usage of the new building meant that it would be occupied for longer hours than a typical teaching block. Lectures often take place in the evening, meaning it would be occupied from 8am until 9pm in term time. In addition, important administrative functions would be housed here, extending use of the building beyond the academic year. Energy efficiency would be particularly important if the University was to achieve its expansion plans with the minimum carbon impact.
Some years in advance of the introduction of the government's CRC Energy Efficiency scheme, the facilities management department of the University of Wolverhampton had already adopted a strategy to specify the most energy efficient equipment that budget allowed, to reduce the institution's carbon footprint.
So, in collaboration with its building services contractor C A Sothers, a highly efficient Armstrong MBS integrated heating solution was installed. It incorporates high efficiency condensing boilers, variable speed drive pumps and advanced controls, which automatically match the heat delivered to the changing demands of the building and its occupants.
Armstrong constructed the integrated heating solution at its factory in nearby Halesowen. The finished package was shrink-wrapped for its short journey to the University site and the project's contractors completed the cladding and weather-proofing of the boiler room.
After its first 18 months of operation, the energy consumption for the new building was calculated and compared with the alternative option (linking to the large but ageing centralised boiler plant). It was calculated that the equipment in the new self-contained boiler house had produced 224 fewer tonnes of carbon emissions. In addition, the energy consumption for the site has been significantly reduced. Over the first 18 month period, the University reduced its gas bill by an estimated £8,191, almost halving the potential energy cost for the building. In addition, the resulting carbon reduction equates to a saving of £2,688 in CO2 credits payable under the CRC Energy Efficiency Scheme.
Stephen Cocks, Energy Manager, University of Wolverhampton said, "I have always believed in designing 10% above the energy efficiency requirements of Part L. Now, with the introduction of the CRC Energy Efficiency Scheme, selecting the best available low carbon technology is more important than ever."