Achema 2012: VSX Managing Director to Present Paper on Energy Savings by Optimal Pump Selection
Jens-Uwe Vogel, co-founder of the well-respected software manufacturer VSX – Vogel Software, is going to present a paper on the topic "Energy Savings by Optimal Pump Selection" on June 21, 2012 at this year's Achema.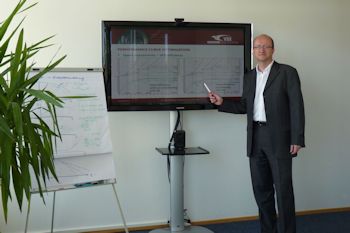 Jens-Uwe Vogel is co-founder and managing director of VSX – Vogel Software. In Frankfurt/Main he will present the paper "Energy Savings by Optimal Pump Selection". (Image: VSX – VOGEL SOFTWARE GmbH)
Besides the discussion itself he will point out energy savings by means of practical application cases.
Especially based on the shortage of raw materials the topic energy savings is more and more focused by the world's community. For a very long time a lot of efforts have been undertaken producing energy from renewable sources. But that the energy that is not needed is still the most ecological way becomes visible when considering the companies' efforts to develop energy efficient solutions for the fluid transfer. Vogel's presentation is dealing with this topic and therefore seizing a very up-to-date topic.
The presentation, given in English language, is especially covering the often underestimated savings by an optimized dimensioning of pumps and systems based on the permanently increasing energy costs. Amongst others, different methods to adapt a pump to a given duty point will be discussed, whereby common failures in calculation of energy consumption will be pointed out. Particularly the use of variable speed drives (VFD) will be analyzed considering several parameters that have an impact on the system efficiency.
The speaker will present motivations but also limitations when using a VFD in contrast with other methods. While comparing the different opportunities, Vogel will give recommendations for certain applications. The advantages of computer aided selection of centrifugal pumps will be demonstrated, when analyzing the energy saving potential of performance curve adaption methods.
"I am very pleased having the opportunity to speak about this interesting and up-to-date topic at the Achema, especially because both energy and resources are indicated as focused subjects in this year's edition" underlines Jens-Uwe Vogel. "Specifically technical innovations like the development of high-efficient drives and powerful control systems are a very important success factor for producing companies today. The Achema is providing a platform for the experience exchange and is therefore enrichment for the whole industry."
The lecture is scheduled for June 21, 2012 at 2:00 p.m. in room Illusion 1 of Building CMF (Congress Center) within session "Plant components - Pumps and valves".
Jens-Uwe Vogel is co-founder and managing director of VSX – Vogel Software. Since his successful graduation in Mechanical Engineering from Dresden University of Technology he is dealing with software solutions for the pump industry. For almost 20 years he advises pump manufacturers in terms of an IT-based optimization of sales processes.
The Achema is the world forum of the process industry and the trend-setting technology summit for chemical engineering, environmental protection and biotechnology. The trade fair is taken place from June 18 to 22, 2012 in Frankfurt/Main, Germany.