ACHEMA 2006: Highlights Part Two
In the second part of our ACHEMA highlights impeller.net takes a look around the area of pumps, centrifugal pumps to be precise. Among our featured highlights are chemical norm and process pumps, vertical chemical pumps, self-priming pumps, high pressure centrifugal pumps, propeller pumps, side channel pumps and even some waste water pumps.
Centrifugal Pumps
Chemical Norm and Process Pumps

Assoma has improved the patented Dry-run Design of its AMX series through a more efficient cooling system. The design of the magnetically driven pump ensures low mechanical loss and therefore high efficiency. The pump made of synthetic and ceramic materials was designed for aggressive media.
Improved dry running, a high hydraulic efficiency and media resistance are the highlights of the new
magnetically driven centrifugal pump series ASV-MAX by ASV Stübbe. The leakage and emission free design is realised in sizes 40x40 und 65x50 for flows up to 39 m³/h and delivery head is up to 34 m.
Using permanent magnets with high energy density allow for a high efficiency. For media that crystallize out ASV Stübbe specially designed the Etching pump. Crystal deposits that build up inside the pump are destroyed by a special labyrinth. In this dry run pump, the shaft crossover into the atmosphere was sealed with a special PTFE lip seal.
For toxic media with special shaft seal requirements the horizontal magnetic drive centrifugal pump MPCHDryRun by Bungartz is a perfect option. The permanently dry running construction is also suitable for solids and gases. The robust, lifetime lubrication rolling bearing and vortex free magnetic drive work independently of the pumped fluid for 3 years without maintenance. Between the back side of the impeller and the shaft bearing there is a labyrinth medium free area filled with barrier gas. This represents a heat barrier with high temperature gradient and therefore ensures low storage temperatures.
Dickow Pumpen has remodelled its NCR series and adapted it to the 9th edition of the API 610. The pumps were designed for applications in the chemical, petrochemical and similar industries. Because of a wide ranging materials selection and the possible inclusion of any shaft sealing system according to API 682, these pumps are suitable to deliver almost all media used in these industries. Examples are acids, alkali, chlorinated hydrocarbon, heat transfer oils, fuels, liquid sulphur, plastic fusion, bitumen etc. Worth mentioning is the integrated inducer which realises especially low NPSH values.
Flowserve announces the launch of the single cartridge chemical pump seal GCX. It was specifically designed to reduce lifecycle costs and provide high reliability for ANSI and DIN pumps operating in multiple chemical environments without chemical compatibility change-outs. The Flowserve GCX seal is ideally suited for intermediate and batch chemical processes in short-run chemical plants and in multiple campaign specialty chemical and pharmaceutical plants using solvents and steam for decontamination.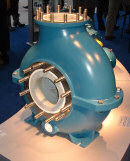 Friatec makes its program π Performance Improvement the focus of this years ACHEMA presentation. The concept is applied, for example, in the extension of the chemical norm pump series FNC made of technical ceramics. The new size FNC 150-400 of this single-stage, horizontal pump in process design has flows up to 900 m³/h. The abrasion resistance and universal chemical resistance of the used materials make this pump ideal for transport of corrosive and abrasive media.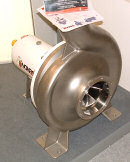 For special areas in food processing, the chemical and pharmaceutical and cosmetics industry Inoxpa has developed the single-stage stainless steel centrifugal pump DIN-FOOD. All parts in touch with the media are done in AISI 316L. The semi-open stainless steel impeller is axially adjustable. A mechanical seal for abrasive media is optional.
The PROLAC HP is a centrifugal pump for highest requirements in the food processing and pharmaceutical industry. System pressure is up to 40 bar and the pump can therefore also be used in reverse osmosis of filtration applications.
The self cooling design and contact free system of the magnetically driven process centrifugal pumps MXM by Iwaki assure best durability under the most difficult operational conditions. Materials with highest chemical durability such as fluoro-plastics and ceramics are used for all parts in touch with media. Thanks to the simple construction maintenance is very easy.

KSB presents at this year's ACHEMA the latest version of the CPK chemical norm pump. It now has stronger shafts in the standard version and larger ball bearings. This allows for even longer endurance and the LCC are lower because the operators have to invest less into maintenance and service. There are special versions for special applications. This way, media that need heating or cooling can be transported. The CPK is one of KSB's most important products for the process technology. It has been built more than 200,000 times so far and transports almost all fluids that are necessary for the production of chemicals, plastics and pesticides. To ease spare parts maintenance many parts from the previous model are compatible.
The plastic norm pump NPC by Munsch Pumpen is available as Mammoth series with sizes up to 300-250-400. With this pump flows up to 2000 m³/h and heads up to 70 m can be realised. Constructed according to EN ISO 5199, class II extends the application area of plastic pumps and is an alternative to its "metal colleagues".
The Swiss specialist for seal-less pumps Rütschi has improved its canned motors. This clearly lowered the losses which lead to a higher efficiency. The motors can be combined with different hydraulics because of a modular design.
The new corrosion resistant, horizontal bloc pump of the OMA series by Savino Barbera is ideal for industrial applications where chemical durability and reliability and at the same time low maintenance are required. The centrifugal pumps are equipped with a double mechanical seal containing a barrier liquid. Application areas include the use in very low temperatures ranges.
The peripheral pump of the P series by Schmitt Kreiselpumpen is chemically resistant and anticorrosive due to its massive PVDF die-cast construction. This makes the pump suitable to deliver uncontaminated media such as acids, alkali or solvents. The magnet pump is done in bloc design and has low maintenance hydrodynamic plain bearings and high quality permanent magnets.
Sulzer expands its OH series by a single-stage process pump OHHL. This new patent pending hydraulic was especially developed for high delivery heads and small flows. The same bearing units as well as the same volute casing as in the OHH model are used.
Vertical Chemical Pumps
Especially for media that heavily crystallize out ASV Stübbe designed the Etching pump. Crystal deposits that build up inside the pump are destroyed by a special labyrinth. In this dry run pump, the shaft crossover into the atmosphere was sealed with a special PTFE lip seal.
The new dry running, vertical submersible pumps by Arbo Pompen are designed in solid auf polypropylene and therefore guarantee highest chemical durability. The pumps are best suited for applications in the printed circuit board industry due to the dependable air and foam free operation. The gentle delivery of the chemicals ensures a long service life of the pumped medium. The re-modelled casing now has an integrated delivery pipe.
The Cantilever chemical pump TNP-C from Munsch Pumpen are now available in vertical setting depths up to 2000 mm. The pumps are available in plastics like PP, PE-UHMW and PVDF and are designed without sleeve bearings and therefore dry running. The pumps are suitable for flows up to 200 m³/h and heads up to 40 m.
The probably world's first completely corrosion resistant non-metallic, magnetic drive submersible pump for use in acids and alkalis is manufactured by World Chemical. Lightweight construction and easy handling make this pump the ideal assistant in emergencies. There is a built-in thermal protector for automatic motor shutdown in case of overheating and the magnetic coupling prevents leakage into the dry induction motor.
Self-Priming Centrifugal Pumps

The magnetic driven sealless pump series MKP from Swiss pump specialist CP Pumpen is extended up to a maximum capacity of 320 (660) m³/h and 110 m. The construction features a product lubricated single bearing design. The shroud is available in Hast.C4 or ceramic.Solids up to 0,5 mm are no problem for this pump at a maximum content of 30%. As innovation to improve energy efficiency by 10 - 15%, CP Pumpen AG presented shrouds made of PEEK which can replace the typically used Hast. C4. Another new development presented was the self-priming MKPL-S, a magnetic coupled pump with PFA lining. CP presented itself with a completely new and informative web-page.

For the self-priming magnet drive centrifugal pump of the SMX series IWAKI has improved the suction time to 90 seconds for 4 meters. Due to the self-cooling construction the pump resists even abnormal operational conditions.
The new magnet coupled, self-priming centrifugal pump PW-N by Pan World distinguish themselves according to the manufacturer through reliability in difficult operational conditions and an attractive price. They are supposed to be an alternative to other technologies, for example diaphragm pumps. 5 different models achieve flows up to 600 l/min (36 m³/h) and heads up to 30 m as well as suction heads of up to 4 m.
Victor Pumps offer its self-priming pumps now also in Bi-bloc version. This version combines the advantages of the mono bloc design with those of a classic base plate pump. This enables the use of electric motors from the B5 series, which also allows the use of a separate motor. This makes operator requirements and export versions easy to fulfil. In comparison to the base plate version the alignment is not necessary since the elastic coupling and pump have their own bearing and represent and easy to handle unit.
The seal-less and valveless magnet pumps of the GV series of Japanese specialist for self-priming pumps World Chemical stand out due to the high-speed self-priming power, heat resistant bushing and cavitations free construction.
High Pressure Centrifugal Pumps

The 200MS series of multi-stage high-pressure centrifugal pumps from Waukesha Cherry-Burrell was specially designed for re-circulating service in reverse osmosis and other membrane systems. The pumps are equipped with large, long-life bearings with non-wearing, labyrinth seals enabling a complete drain of air or gases from the sealing chamber. These pumps produce a smooth, constant flow rate that reduces RO membrane fouling compared to piston pumps.
Propeller Pumps

The propeller circulation pump R PROP from Friatec are now also available in flange motor version R PROP F. There is no need for a supporting construction or an additional backing with this T-casing design where the pump is connected to the flange motor through an elastic coupling. .
Side Channel Pumps
The new side channel pumps CEH-X and AEH-X by Sterling SIHI optimise the proven technology with regards to improved safety, maintenance and assembly. The improved safety is realised through the new barrel design. The number of casing seals is reduced to a minimum and the quality of the sealing is improved by using o-rings instead of PTFE cord. Instead of tie bolts normally used in multi-stage ring section pumps, standard machine screws are used to assemble the pump casing. This allows simple mounting and maintenance as well as a high safety standard and the prevention of leakages at varying temperatures. The unique design of the bearing bracket and sealing housing allows the use of all common single and double acting mechanical seal options including cartridge seals. The new design is fully interchangeable with former series and therefore guarantees the exchange of existing pumps.
Water & Waste Water Pumps
The heat pumps NCE in energy class A by Calpeda are certainly not the typical exhibit at the ACHEMA. Besides the energy savings, the manufacturer claims the advantages of these pumps equipped with permanent magnet motor to be: low noise level, simple regulation of the duty point und compact dimension.
Also somewhat exotic at this fair was the product range of HWA Rang. The centre of their presentation was the pressure boosters WPMS. Advantages of these pumps equipped with a frequency converter are the energy saving applications, easy installation and comprehensive monitoring and alarm functions.