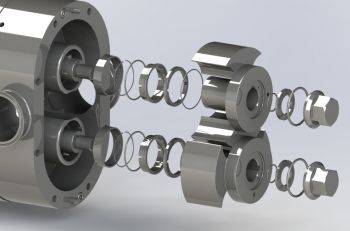 The enhanced design of Ampco's patented ZP3 is the new industry leader and is setting the standard for positive displacement pump technology.
The ZP3 Series Pumps feature Ampco's patented front-loading seal design and CIP-ability while maintaining maximum efficiency, ease of maintenance and greater uptime. Ampco's seal design eliminates all dead zones in the pump. The ZP3's combination tungsten carbide and silicon carbide seal configuration generates less heat, promotes longer seal life and is the leader in durability. The ZP3 Series is a smart choice providing the most features for the best value in sanitary applications. If your process requires CIP, you need the ZP3.

The ZP3 Series is EHEDG and 3A Certified and in conformance with the ATEX Directive.

Ampco's engineered enhancements make the ZP3 maintenance friendly with no modifications or loss of performance translating into more productivity. Amcpo's ZP3 Series enhancements include an updated cover design to improve the o-ring's exposure to CIP fluid as well as the free drain design, which maintains maximum pump efficiency and contributes to improved CIP-ability. See maintenance savings for yourself by visiting Change Race Video.




Ampco Pumps GmbH
Am Gäxwald 6
76863 Herxheim Germany
Phone: +49 7276 5058515
www.ampcopumps.de
info@ampcopumps.de




Corporate Headquarters
2045 W. Mill Rd
Glendale, WI 53209
800.737.8671
www.ampcopumps.com
info@ampcopumps.com
Source: Ampco Pumps GmbH
AMPCO PUMPS in the Virtual Exhibition