Sugar cane farmers, the Templeton family, on Queensland's Sunshine Coast, have cut energy costs and gained additional water efficiency by installing a Tsurumi submersible dewatering pump. The new installation is a safer, flood proof solution for water harvesting that delivers 3,000 lpm at 850 Kpa.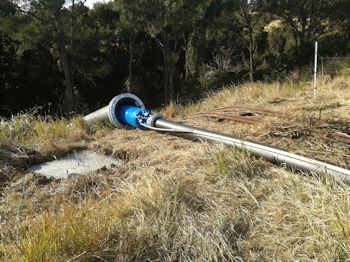 The original system at the farm had an 18.5kW end suction centrifugal pump mounted on a trolley beside the creek. This supplied water to a variable speed 75kW end suction pump positioned 18 metres above the creek water level, away from the highest known flood level.

The combined pump system supplied water at a rate of 2,400 lpm, at 700KPA, to irrigate pasture, sugar cane and a valuable ginger crop on the Templeton's farm.

In the event of heavy rain, a tractor was used to haul the old pump/ trolley up a 40 metre railway track, away from the creek. Creek levels can rise fast, and this procedure had significant risks, especially when performed at night on a steep, wet, slippery bank.

The Pump House, Nambour based local Aussie Pump distributor came up with an "out of the box" solution to the problem. A Tsurumi LH619 submersible dewatering pump, installed inside a 630mm PN10 poly pipe sleeve, now delivers water to the 75kW irrigation pump. The poly sleeve runs down the creek bank, secured by cables and chain anchors.

"Dewatering pumps aren't usually used for applications like this, but these big high head pumps are ideal for water harvesting from rivers or dams", said Peter Chadband from the Pump House.

Four main features of the Tsurumi submersible make it suitable for this application;

The pumps resistance to abrasion means it can handle sand in the creek water in times of dry weather.
Its slimline design and the central discharge flange allows the pump to fit easily inside a poly pipe sleeve.
The inbuilt thermal motor protection shutdown device protects the pump from dry running.
The robust construction and hard wearing mechanical seal arrangements are designed for abrasive mining applications.
The 6" pump selected, a Tsurumi LH619, has a 19kW, three phase motor with DOL start. The pump produces a maximum 4,370 litres per minute flow and has a vertical head of 42 metres.

The pumps can be installed either in shallow wells or bores but also lend themselves to being installed in shrouds or poly pipe sleeves. They can be mounted vertically or in a range of angles through to horizontal without effecting pump performance.
Although originally designed for mine dewatering, the Tsurumi LH series is equally at home in agricultural water harvesting applications. The centre mounted discharge means discharge pipes or hoses are balanced.

The Tsurumi submersible pump is totally different in design and concept to normal submersible water harvesters or line shaft pumps. The closed style impellers are manufactured from high chrome iron and are durable and corrosion resistant.
The pump comes with a double silicon carbide mechanical seal, protected in an oil chamber. The oil chamber eliminates spring failure caused by corrosion or abrasion and keeps both surfaces of the mechanical seal lubricated and cool. A patented oil lifter developed by Tsurumi, provides guide veins inside the oil chamber than ensures the mechanical seals are lubricated even if the oil levels fall.

Standard on all Tsurumi pumps is an anti-wicking block at the cable entry. This feature prevents the incursion of water due to capillary wicking in the event that the power cable is damaged or the end submerged.

"We've seen the 75kW pump deliver more flow while drawing 10% less current due to the increased efficiency gained by a positive suction pressure at the pump inlet. It's a great outcome using less labour, less energy with increased performance and improved safety for the client," said Chadband.


Picture: Installation of a Tsurumi high head submersible to harvest river water led to increased efficency and improved performance of the irrigation system on the Templeton's sugar cane farm (Image: Aussie Pumps) Source: Australian Pump Industry


More about AUSTRALIAN PUMP INDUSTRIES
News about the topic SUBMERSIBLE PUMP
News about the topic DEWATERING PUMP