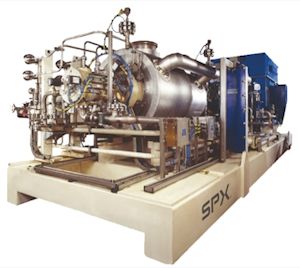 The pumps, designed against the latest API 610 oil industry specification, are engineered in a variety of configurations to suit the application and customer needs; from opposed or inline impeller arrangements; volute or diffuser based hydraulics, foot or centreline mounting, and material construction options from carbon steel to super duplex; all features considered to achieve an optimum pumping solution.
The advanced design of the CUP-BB5 includes other key features such as the pioneering Shear Ring cartridge locking system, which enables rapid withdrawal of all the pump internals as a cartridge without disturbing connecting pipework. This greatly reduces the time required to maintain the equipment compared to conventional methods.

Sophisticated sealing options designed to meet the API 682 standard, include a patented double mechanical seal system which is available to ensure safe operation when pumping aggressive or toxic fluids. A stiff rotor design provides maximum hydraulic efficiency, extended mean time between overhauls and reliable operation.

Through its ClydeUnion Pumps brand, SPX has vast experience in often arduous offshore and onshore Oil & Gas environments. These highly successful CUP-BB5 machines are used extensively throughout the production, transportation and refining sectors, covering such diverse applications as high pressure water injection, liquid pipelines, Boiler Feed water, and hot hydrocarbon refinery services.


Picture: CUP-BB5 Range of Multi-stage, Radially Split Barrel Pumps (Image: SPX)
Source: SPX
News about the topic BARREL PUMP
News about the topic MATERIAL