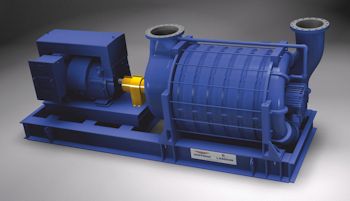 With the "900" series, Hoffman & Lamson launches a significantly improved, multistage centrifugal blower to the market. Design optimizations result in an increase in efficiency of up to 8 %.
The new "900" series was developed for optimum performance with directly coupled motors. Optimizations in the housing and the impellers result in an increase in efficiency of up to 8 %, and therefore significant energy savings. Compared to other models, it is possible to operate the blower without a gearbox, which considerably reduces the noise emissions of a system.

The maximum compression pressure is 1.5 bar g. The "900" series is offered in 3 sizes with which a volume flow rate between 8,000 and 67,000 m³/h can be achieved. A large number of design options are possible here: Special coatings, alternative materials, oil and grease lubrication, special gaskets, coupling options and different drives. The multistage centrifugal blower defined in this way is then manufactured for the individual application and according to the specified requirements.

The blowers from Hoffman & Lamson are used when processes require a uniform pressure, pulsation-free flow and oilfree operation. This property is extremely important for many processes in a broad range of industries, e.g. for the ventilation, extraction, conveying of gases and fine dust or in drying processes.
Picture: 900 Series (Image: Gardner Denver Nash)
Source: Gardner Denver Nash
More about GARDNER DENVER
News about the topic BLOWER
News about the topic PRESSURE