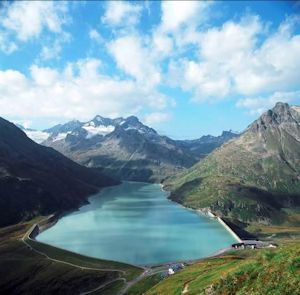 Voith Hydro has received new orders to equip two pumped-storage plants in Austria. The company will supply the energy provider Vorarlberger Illwerke AG with two pumps and a pump turbine for the two projects "Obervermuntwerk II" and "Rellswerk" in Montafon, Vorarlberg.
The total value of the order is around €35 million. Within the context of Germany s switch to renewable energy ("Energiewende"), pumped-storage plants assume an important role as an efficient, cost-effective and reliable storage technology that has been tried and tested over decades.

"We are delighted by the trust that Illwerke have once again placed in the expertise and experience of Voith," said Dr Leopold Heninger, Chairman of the Management Board of Voith Hydro in St. Pölten. "With the expansion of pumped storage capacities in Austria, we are together making an important contribution to the sustainability of our energy supply from regenerative sources."

For the Obervermuntwerk II, Voith is entrusted with the supply, assembly and commissioning of two 170 MW storage pumps including the hydraulic torque converter. The plant will be constructed between the two reservoirs Silvretta and Vermunt and will complement the Obervermuntwerk, which has existed since 1943. The new pumped-storage plant will make a decisive contribution to increasing the efficiency and capacity of the "Upper Ill-Lünersee" group of power plants and will be used in particular to generate peak and control energy. It is therefore an important building block for successful implementation of the European energy transition.

For the new Rellswerk, Voith Hydro will supply a 13 MW, 3-stage pump turbine, complete with bearing oil supply system, as well as assembly and commissioning services. The Rellswerk will also be incorporated into the existing group of power plants, thus increasing the amount of energy generated: thanks to the flow from the Rells creek, the Rells power plant will be able to produce around 18 GWh of additional primary energy a year. This will also increase the amount of valuable peak and control energy available at the Lünerseewerk power plant by somewhere in the region of 37 GWh a year.

Pumped-storage power plants are a significant addition with regard to the planned expansion of renewable energy sources. Only these plants can absorb electrical energy from fluctuating renewable sources such as wind and solar power during feed-in peaks both cost-effectively and on a large scale, and in turn feed power back into the grid in a matter of seconds if necessary. With their capacities they therefore contribute to the security of the power supply and the stability of the grid – a contribution that is becoming all the more necessary as the proportion of volatile power from wind and solar energy in the grid increases.

Voith is an experienced partner when it comes to equipping pumped-storage power plants: the company has provided over 400 units for pumped-storage power plants worldwide, including other large plants in Austria such as Kops, Limberg and Rodund.
Picture: Silvretta reservoir (source: Illwerke)
Source: Voith
News about the topic STORAGE PUMP
News about the topic HYDRA