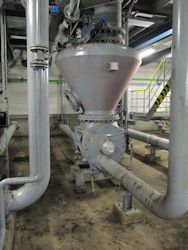 Coperion GmbH, recently supplied and successfully commissioned a wear-protected rotary valve for the RWE Power AG Ville / Berrenrath coal refinery.
The rotary valve type ZXQ with a diameter of 600 mm, feeds dry lignite into a pneumatic conveying system that transports the material from a new vertical roll mill to the storage silos. The conveying pressure of the system ranges from 0.9 to 1.1 bar. The rotary valve is designed for a capacity of 60 t/h, however, a peak performance of approximately 80 t/h has already been recorded.

From the outset, this application has demonstrated the advantages of a rotary valve over screw pumps that are normally used for feeding:

The rotary valve does not constitute a potential igniting source, as the circumferential speed at the normal operating rate is below 1 m/sec. The valve is also available in a flame resistant version in accordance with the respective explosion protection concept required for the process.
With an operating power requirement of only 4 kW, compared to approximately 100 kW in the previous system, tremendous electrical power savings are possible. In addition, simple maintenance and long maintenance intervals lower operating costs even further.
Due to its lightweight design and low operating speeds the valve only requires a compact, simple foundation. These features also result in lower noise emissions.
The tightness of the valve makes it suitable for "light", fluidized products such as dry lignite with bulk densities below 600 kg/m³ because sealing is achieved by precise gap dimensions and not by compression of a bulk material plug.
The rotary valve tightness is equally effective in partial load and full load operation. Therefore, start-up of the mill can be mastered without the problems that previously occurred with insufficient sealing in partial load operation using a screw pump.
In another RWE coal refinery, a rotary valve of the same design achieves conveying capacities up to100 t/h. The material particle size for this application is coarse but fluctuates considerably and in spite of this potential difficulty the rotary valve ensures a constant high level of tightness at the required filling level. This also occurs in partial load operation and is not affected by variations in the bulk material properties.

For decades, Coperion's comprehensive application experience has led to the successful development of many industrial products. For example, this powerful rotary valve includes highly-effective wear protection that safeguards the long-term performance of the product. In addition, the gap and leakage gas flow rates are reliably calculated and guaranteed even when temperatures fluctuate. Lastly, an optimal geometric design is provided to achieve the high filling and emptying levels required by the user for "light" bulk materials that may fluidize with a fluctuating conveying pressure. To determine the correct specifications for the rotary valve, use of modern design tools is essential and Coperion specifically uses the Finite Element Method for all calculations. Coperion test labs also provide data analysis for pneumatic conveying and gas leakage measurements.

Picture: Wear-protected rotary valve (Image: Coperion)

Source: Coperion


News about the topic VALVE
News about the topic SPEED