Improving efficiency and reducing energy costs are key objectives in most process applications, especially in today's increasingly cost-conscious environment. With these goals in mind the deployment of more energy-efficient pumps can make an important contribution and M Pumps S.R.L, (previously known as 3M Pumps) are pleased to announce a significant breakthrough in the development of their established range of sealless, magnetic-drive pumps.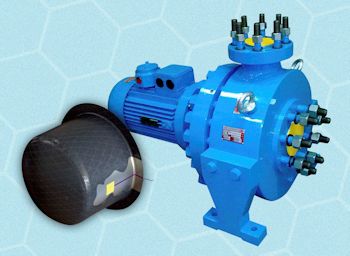 Available from Pump Engineering, M Pumps magnetically driven, sealless pumps are widely acknowledged as offering important benefits of leak-free, low-maintenance and reliable pumping, especially when the process involves aggressive, corrosive fluids. The Mag-drive design eliminates the need for mechanical seals and so removes the single biggest potential risk for leaks and emissions. However, one inherent disadvantage of magnetically driven pumps is eddy current losses in the containment shell which are caused by the rotation of the magnetic field due to the magnetic coupling and are inevitable when the rear containment shell is made from metal. These losses are greater in high pressure pumps which have a thicker containment shell and result in elevated temperatures.

The common solution to overcoming the effects of these losses is for pump motors to be 'oversized', essentially a more powerful motor compensates for the loss of power. However, the disadvantage of this is that more power means increased energy consumption and therefore reduced energy-efficiency.
Several approaches have been made to address eddy current losses using alternative non-metallic materials for the rear containment shell, with mixed results.

For example:

Using zirconium oxide. However, this requires considerable thickness and has limited mechanical properties so cannot withstand high thermal shocks, added to the fact that it's an expensive material.


Use borosilicate glass. This solution has been adopted for some pumps, however, glass is a fragile material with poor mechanical strength and again has limited thermal resistance.


Develop PEEK matrix composites. Again this material requires considerable thickness to guarantee a perfect seal. It also offers poor mechanical resistance, has restricted temperature limitations and is extremely expensive.

Following extensive testing and development of various options, M Pumps have produced a hybrid rear shell design (Patent Pending) based upon an inner shell made from Hastelloy C and an outer shell which consists of a carbon filament which is wrapped around the steel outer shell. The result is a composite rear shell construction with the properties of a non-metallic material, combining the all-important qualities of optimum mechanical and chemical resistance. Furthermore, extended trials of M Pumps with the new hybrid rear shell have proven resistance to temperatures above 300°C, pressure resistance up to 500 bar and most importantly a reduction in eddy current losses by up to 90%.

Another feature of the new containment shell is the ability for operators to constantly monitor the temperature of the process fluid, without the need for external devices.

This is possible thanks to a special miniature probe which is inserted at the exact level of the magnetic field, between the fibres of the composite and in direct contact with the metal shell. This enables the temperature of the process fluid to be monitored to a high degree of accuracy within the pump without the need for additional devices.

The development of the new M Pump rear containment shell results in a significant contribution to reducing eddy current losses and the associated energy costs and so maximises the important benefits of sealless, mag-drive pumping.

Picture: Pump Engineering Source: Pump Engineering


More about PUMP ENGINEERING
News about the topic MAG-DRIVE PUMP
News about the topic EFFICIENCY