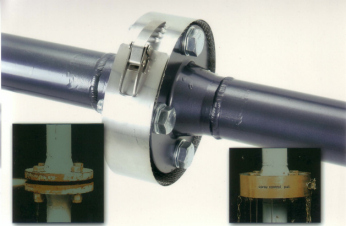 A new type of TUV approved stainless steel spray guard which provides effective protection from dangerous spray-outs of fuel oils such as kerosene, diesel and other flammable liquids from pipes and flanges, has recently been introduced by level and flow specialists Allison Engineering.
The innovative design of the Allison safety shield incorporates a steel band and an internal stainless steel mesh which wraps around flanges and valves. This mesh is designed to sit against the flange, between it and an outer steel band and compresses against it to ensure that sprays or leaks are dispersed, whilst also preventing lateral spray. The mesh acts as a seal which is 'pinched' in the middle to form a raised layer that squeezes in the small gap between the two flange faces.

The shield, which is TUV approved and has been pressure tested up to 50 bar, has a quick-release connection, it does not require tools or any knots to be tied, so installation and removal is quick and simple. It provides effective spray control on most flange configurations, round, oval or square and regardless of the flange gap, the internal stainless mesh adapts accordingly.
Picture: Allison Engineering
Source: Allison Engineering
More about ALLISON ENGINEERING
News about the topic FLANGE
News about the topic PIPE