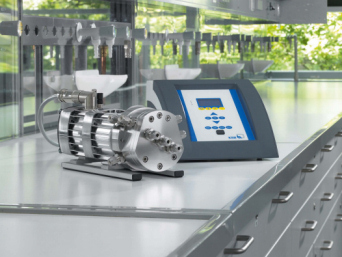 At the ACHEMA trade fair 2009, KSB Aktiengesellschaft, Frankenthal, Germany will exhibit some major innovations and developments to its Microchem pump.
To extend Microchem's application range to include food processing and preparatory processes in the pharmaceutical industry, KSB has developed a variant whose wetted elastomer seals are all made of FDA-approved Kalrez 6221.

The wetted metal components can be supplied with a material certificate 3.1 to DIN EN 10204. This certificate, for which the exact chemical composition of every component has to be documented, is often required for sensitive processes.

As Microchem pumps are easy to clean, their design allows for cleaning in place and their filling volume can be as small as 5 ml, they have already become established in a number of applications. In the field of biotechnology, tests have shown that compared with other pump systems Microchem is favourable to the growth of micro-organisms because of the pumps' low shear forces.

Microchem will be on display not only at the KSB stand in hall 8.0 but also in combination with reactors on some customers' stands.

Picture: KSB's Microchem pump for pulsation-free fluid in continuous processes
Source: KSB
News about the topic SEAL
News about the topic COMPONENT