ACHEMA - the most important trade fair for the chemical and processing industries. It took place from May 15 to 19 in Frankfurt Germany. The online pump magazine impeller.net was there to find out about the most important developments of the pump technology and will report the highlights in several parts.
Pump Controls and System Monitoring

Flowserve introduces IPS Tempo™, a pre-engineered intelligent pump optimization, control and protection system at ACHEMA 2006. IPS Tempo adjusts pump operations for flow, pressure, temperature, and fluid level changes. The system monitors process variables and pump power, and offers extensive condition monitoring and control.

IPS Tempo helps eliminate costly downtime and expensive repairs caused by dry running, blocked lines, pump overloads, closed suction or discharge valves, cavitation, and excessive wear or rubbing. Users can program IPS Tempo to respond to process and condition variables to protect pump equipment against adverse operating conditions, thereby optimizing plant output and pump availability and lowering total cost of ownership.

IPS Tempo incorporates variable frequency drive (VFD) technology, pump-specific optimization software, an industrial grade electric drive, and intuitive menu-driven user interface to provide superior protection, reliability, and the ease of use not possible with other VFDs or pump control systems.



To avoid down times and to reduce maintenance by early detection of malfunctions is also intended by the Uniview monitoring System by Herborner-Pumpenfabrik. Analyzing a variety of technical parameters, for example temperature and vibrations of bearings, pressure and electrical data, the individually configurable system offers complete protection for the pump system. The control by Profibus makes it easy to integrate the unit into existing monitoring systems. Remote maintenance is possible via Internet or GSM. Besides the use in swimming pool technology the manufacturer sees this as the next step to reinforce its activities in industrial applications.

In addition Herborner Pumpen also introduces PAHN II – the second generation of its pump selection software. The software includes the products for the areas pool water technology, industry, waste water and marine technology. The system uses the leading pump software technology Spaix by VSX – VOGEL SOFTWARE and is currently available in 11 languages.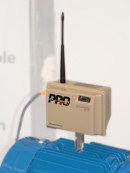 Having the goal to prolong the life span of pumps and systems, ITT Industries has developed the machine condition monitoring system PROsmart. The system unites hard- and software completely developed "in-house" in order to monitor continuously rotating plants like pumps, motors, compressors, ventilators and mixers. If any parameters of these plants such as speed, temperatures, vibrations, oil levels or leakage exceed pre-set limits, PROsmart sends an alarm signal. Either the web, e-mail, mobile radio, SMS or pagers are used to transmit the signal. By detecting and signalling potential plant problems, down times and maintenance costs can be reduced.

The peripheral compact control unit SIHIcontrol by Sterling SIHI is a powerful process control, regulation and monitoring unit for complete pump systems along with relevant valves and sensors. The effort for wiring and engineering in comparison to central solutions are to be lowered by this extendable and programmable Profibus system. A variety of connections as well as an integrated web server facilitate remote diagnosis and maintenance of the system.
ACHEMA


News about the topic PUMP CONTROLS
News about the topic MONITORING