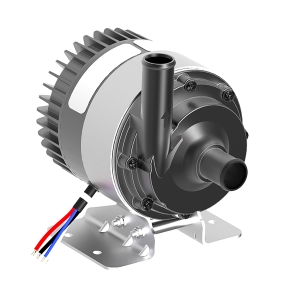 The Johnson Pump CM100 from SPX Flow is a magnetically driven, sealless pump capable of handling dry running of up to 25 minutes for demanding applications. Ideal for high pressure or high flow applications, the CM100 provides design engineers and OEMs with reliable, high quality fluid control.
Typical applications for the Johnson Pump CM100 include buses and trains; forklift trucks; and heavy-duty systems in agricultural equipment, construction and mining vehicles. More recently, the pumps are also finding applications in Thermal Management Systems for hybrid and electric vehicles.

Featuring a brushless 24V DC motor designed for a 40,000 hour service life, the CM100 eliminates brush maintenance and related motor failures. Its magnetic drive means there are no shaft bearings that can deteriorate or leak: a factor which assists in making the pump resistant to damage from dry running and prolongs service life.

Two pump options are available:
The CM100HP for high pressure applications is suitable for system pressures of -0.2 to +2.5 bar at 100°C. It offers either 25 mm (1") or 38 mm (1½") ports, both of which deliver a flow rate of 85 l/min at 1 bar.

The CM100HF for high flow applications features a 38mm (1½") port and offers a nominal flow of 135 l/min at 0.4 bar. It is designed to withstand ambient operating temperatures of -40°C to +105°C at liquid temperatures of up to 93°C.

The CM100 is rated to IP6K9K and IP67, ensuring a high degree of reliability in the most demanding environmental conditions. These IP ratings confirm the pump to be waterproof, dustproof and to withstand salt and high-pressure/steam jet cleaning. The pump is also tested and approved according to applicable standards to withstand shock and vibrations. In addition, the metal design of the CM100 allows it to meet the flammability rating UL 94 Class V0, which is required in train applications. It is also EMC R10 approved.


Picture: The Johnson Pump CM100HF magnetically driven, seal-less pump from SPX FLOW for high flow applications features a 38mm (1½") port and offers a nominal flow of 135 l/min at 0.4 bar. (Image: SPX Flow)

Source: SPX Flow


News about the topic SEALLESS PUMPS
News about the topic HIGH FLOW APPLICATIONS