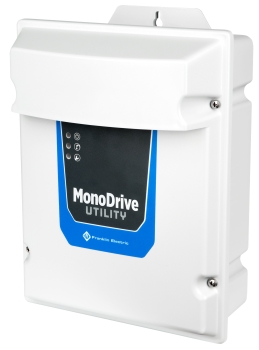 Franklin Electric introduces the MonoDrive Utility Variable Frequency Drive to provide an easy-to-install 3-wire constant pressure solution for 230 V submersible pumping systems up to 2 hp. Requiring only a small pressure tank, it offers a more compact overall footprint compared to traditional water systems, while providing the added value of constant water pressure and built-in motor protection.
One MonoDrive Utility replaces up to nine control box configurations, simplifying inventory requirements while providing a more desirable value for the end user. Once wired, setup requires the simple flip of one switch in most applications, saving significant time during installation. Designed with a sleek NEMA 3R (Type 3R) enclosure, it is rated for both indoor and outdoor use that provides a degree of protection against falling rain or sleet.

MonoDrive Utility is optimized for 3-wire pumping systems utilizing a Franklin Electric motor, making retrofitting to current systems seamless.
Picture: Franklin Electric now offers the new MonoDrive Utility Variable Frequency Drive to provide an easy-to-install 3-wire constant pressure solution for 230 V submersible pumping systems up to 2 hp. (Image: Franklin Electric)
Source: Franklin Electric
More about FRANKLIN ELECTRIC
News about the topic VARIABLE FREQUENCY DRIVES
News about the topic SUBMERSIBLE PUMPING SYSTEMS