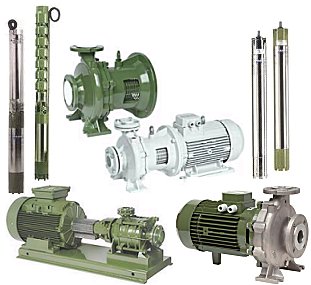 Established in 1951 Saer Elettropompe has more than 50 years of experience in water technologies and today offers more than 500 different models of pumps and motors, which is one of the most complete product ranges in this sector.
Saer Elettropompe was founded by Carlo Favella who later left the company to his sons. Thanks to their dedication, Saer can proudly look back on more than 50 years of experience in water technologies.

The range of products covers different applications and includes centrifugal pumps up to150HP, submersible pumps and submersible motors up to 400HP.

Saer also produces:
electric motors, borehole pumps, self priming pumps, centrifugal pumps, drainage pumps, self priming pumps, radial submersible pumps, semi axial submersible pumps, normalized pumps, industrial pumps, close coupled normalized pumps, stainless steel pumps.

The main applications are in the civil, municipal, industrial, agricultural and domestic fields, for drainage, in fire fighting systems and in air-conditioning and heating plants.

Thanks to the construction of a new factory in 2000, the manufacturing systems have been completely renewed and reinforced. Today, the company operates in 3 modern manufacturing facilities with a total surface of 100.000 square meters. One of the factories is completely dedicated to the production of submersible motors.

Saer products are exported in more than 90 countries and its trade mark has been regularly registered all over the world.


SAER Elettropompe
News about the topic SAER