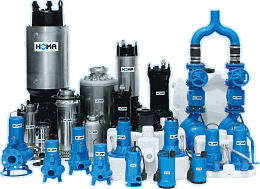 Pumps for sewage disposal, sanitary engineering, dewatering and drainage
Leadership in submersible pumps:
HOMA for economical solutions in environmental technology
For more than 50 years HOMA - we made history in submersible pumps

Company founder Hans Hoffmann set the foundation with an electric motor service shop - more than 50 years ago. Today the company is a worldwide operating manufacturer of high quality submersible pumps - still independently owned by the founder´s family.

With this significant amount of experience in electric motor and pump manufacturing, HOMA supplies a product range that has set standards in submersible pump technology - standards for higher performance, excellent quality and improved cost efficiency.

One example is our submersible grinder pump for high pressure wastewater pumping systems. In the early 1980´s HOMA developped this pump, which cut all solids in the waste water before entering the pump. Today HOMA manufactures the most powerful grinder pumps worldwide.


Quality begins in people´s minds

Our engineers and technicians enjoy the challenges of finding new solutions before others do. One example for this is our DN 100/150 wastewater pump series: pumps with enclosed single-channel impellers that provide 100 mm clearance and a pump efficiency far beyond that of earlier generations, combined with extremely smooth operation and non-clog-security.

Another example is the HOMA autocoupling system for submerged installation of wastewater pumps in wet pits. Avoiding the leakage problem of most other comparable systems, the HOMA autocoupling supplies dual guiderails, pivoting coupling action with full face axial compression and a replaceable soft seal ring, making it the best solution for wet pit installation of submersible pumps.

At HOMA, quality does not end with the design and manufacturing of reliable, high-performance products. For us, quality also means providing assistance and service to our customers before and after sales. A pump selection software program on CD, or from the Internet, is a part of this service as well as a worldwide net of HOMA agents, distributors and service companies. All activities in HOMA are monitored by our quality management, certified to ISO 9001 standards.


At home in many markets

Submersible pumps made by HOMA are currently operating in more than 60 countries worldwide - in municipal and industrial wastewater and sewage pump stations or treatment plants, in stormwater pump stations, in private and commercial buildings, in construction sites and in many other water transfer or disposal applications.

Many reference projects around the world prove the confidence of HOMA customers in our company and products.
HOMA pumps are installed in big hotel and shopping centres like the historical County Hall hotel, shopping arcade and aquarium in the City of London, in high rise buildings in Singapore and Hong Kong, big sport stadiums in Miami/USA, big construction sites in Berlin and Sydney, in street tunnels in Istanbul and Perth/Australia, in the airport of Beirut, they supply ground water and transfer waste water in the deserts of Arabia.
Our dedication is to justify, further develop and extend this confidence.

HOMA Pumpenfabrik GmbH
Industriestraße 1
D-53819 Neunkirchen-Seelscheid

Tel. ++ 49(0) 2247 7020
Fax ++ 49(0) 2247 70244


Picture: Pumps for sewage disposal, sanitary engineering, dewatering and drainage

HOMA Pumps