Xylem's Rapid Response after Storm Hit Southeastern Spain in 2019
On September 12, 2019, a massive storm hit the southeastern coast of Spain, delivering to some areas the heaviest rainfalls recorded since 1917. In Ontinyent, south of Valencia, almost 300mm of rain fell in 24 hours.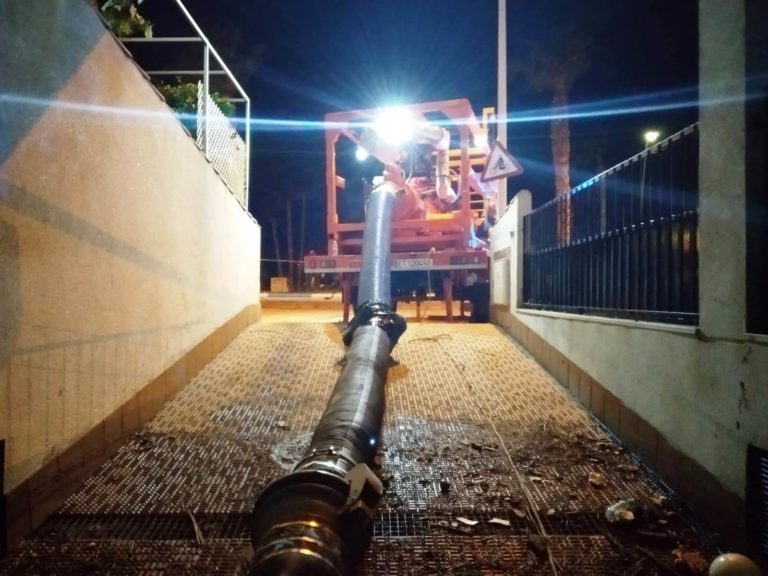 In the coastal town of Los Alcazares Xylem products removed water from various buildings and parking lots. (Image source: Xylem, Inc.)
After the storm, Xylem quickly provided Spain's Military Emergencies Unit with equipment to remove thousands of cubic meters of water from flooded buildings.
The storm caused rivers to burst their banks, evacuations, road closures and extensive damage in the regions of Valencia, Alicante, Murcia and Almeria. Approximately 3,500 people lost their homes. The local Xylem Rental team immediately offered their expertise and services to aid the Military Emergencies Unit in dewatering flooded areas and homes.
The Military Emergencies Unit (Unidad Militar de Emergencias) is responsible for protecting people during natural disasters. Xylem supplied the unit with 500 meters of hose and five Flygt submersible pumps, models 2660, 2140 and 2151. The unit pumped water out non-stop for six days, removing 25,000 cubic meters of water from flooded garages and the underground floors of residential buildings.
"The Xylem Rental team acted with speed and professionalism when advising the Military Emergencies Unit on how to install and place the equipment," said Captain Miguel Ballesteros, responsible for coordinating the emergency operation. "We greatly appreciated that a technician was present at all times to help place sensitive electrical connections and ensure the equipment was functioning properly."
In the coastal town of Los Alcazares, the unit also used three Godwin HL250M pumps, plus several Flygt 2660 pumps, to remove water from various buildings and parking lots. The Xylem products emptied the parking lots of 20,000 cubic meters of water per day over two days.
Another consequence of the storm was that large areas of Los Alcazares were covered in mud. The city council asked all citizens to work together to bring cleaning supplies to the areas and to homes that had been completely flooded and destroyed. Since supermarkets and shops in the disaster areas were out of supplies, the local Xylem team acted on this initiative immediately.
"We understood that we urgently needed to take action and support the local community," said Elena Aguilera, Communications Manager at Xylem. "We acted fast and gathered all the necessary cleaning supplies, such as mops, buckets and brushes, and sent them to the town hall. It took less than 24 hours to reach the affected area."
The rescue team in charge of distributing the cleaning supplies greatly appreciated the help that came from the Xylem team.
"We can't thank you enough for coming to our aid and supporting the community in these difficult times," said Manuel Durán, Coordinator for the Civil Protection Unit.
Xylem's response team also included Juan Miguel García Canovas, Sales Technician, and Maria José Iguaz, MD & HR Coordinator at Xylem and a Xylem Watermark champion.