Xylem to Open New Visitor Center in Sweden
Xylem will open a newly expanded visitor center adjacent to its global manufacturing facility in Emmaboda, Sweden today (1st September). The enhanced 400 square meter visitor center will feature a new showroom, double the amount of conference space, a café and office space.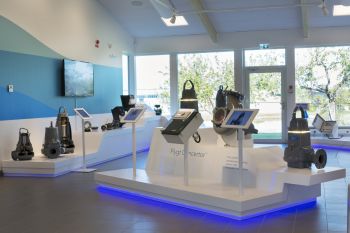 Xylem
"Approximately 1,500 visitors from all over the world come to our factory at Emmaboda each year," said Magnus Jonsson, Managing Director Xylem Manufacturing and Plant Director. "Close collaboration with our customers enables us to create solutions that meet their needs and helps us to drive innovation in water and wastewater technology design."
"Our new visitor center will allow us to showcase our technologies and solutions to more of our customers and support this collaborative approach," continued Magnus Jonsson. "It will give our clients a very clear insight into the advanced techniques involved in developing solutions that will solve their particular water challenges."
Xylem's Flygt branded water and wastewater solutions for wastewater pumping, dewatering, water treatment, monitoring and control, as well as aftermarket services, will be showcased in the new center. The facility will also be used for training sessions for customers and Xylem partners.
"Information, training and education are an integral part of our business; it is essential for the constant innovation process we thrive in," said Veronica Jergelind, Communications Director of Xylem's Transport Business. "With this new center we aim to take training beyond a standard classroom experience by having our expert manufacturing team on hand to share insights and expertise, and the production plant next door where visitors can witness product manufacturing first-hand."
The new visitor center will also feature an interactive case story portal with touchscreen interface to show visitors examples of how Xylem successfully solves customers' water challenges in tens of thousands of installation all around the globe. The facility also will showcase the work of Xylem Watermark, the company's corporate citizenship program, which aims to provide and protect safe water resources for communities in need around the world and educate people about water issues. A new product area will display newly developed innovations, such as Xylem's Flygt Concertor wastewater pumping system – the first system worldwide to feature integrated intelligence and just recently launched on the market at IFAT 2016 in Munich.
Xylem's museum is situated close to the new visitor center. It provides an historical journey through the various landmark moments in the history of the Flygt brand, including the development of the world's first submersible drainage pump in 1947, the world's first submersible sewage pump in 1956 and the non-clog N-impeller in 1997.