Xylem Previews Integrated VFD with Sensorless Control
Xylem Inc. previewed the addition of its integrated VFD sensorless control on the Bell & Gossett series 80 & 80-SC in-line pumps at AHR Expo in Dallas, Texas, January 28, 2013.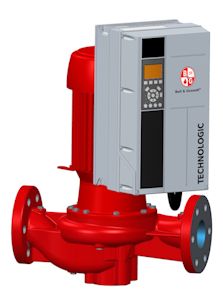 Xylem Series 80 Pumps with VFD Sensorless Drive (Image: Xylem)
Available in the second quarter of 2013, the variable speed drive sensorless controller utilizes the latest generation hardware platform with advanced pumping software and proven algorithms to create a smarter, more cost-efficient and energy-saving pump system for HVAC and pressure booster applications. The sensorless control mode eliminates the cost and complexity of installing and maintaining pressure or flow sensors in remote locations.
The new controller also lengthens the equipment life and lowers operating costs of the series 80 pumps. All series 80 pumps feature space-saving design and ease of maintenance for a wide variety of HVAC applications.