Xylem Presents Latest System Solutions for Commercial and Residential Building Services Applications
Xylem will feature its latest system solutions for commercial and residential building services applications at the ISH exhibition, including the newly launched e-series, a range of highly efficient in-line and end-suction pumps that exceed the strict 2015 European Ecodesign directive requirements.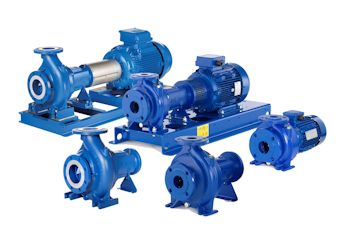 e-Series (Xylem)
Visitors to the stand will be able to get hands-on experience with the company's products and technologies, including Lowara e-NSC high performance end-suction pumps, e-LNE vertical in-line pumps, and e-SH stainless steel end-suction pumps – all part of the recently launched "e-series" of highly-efficient pumps. Also Xylem's Hydrovar variable speed drive will be showcased. Motor-mounted and space-saving, the Hydrovar is a 'plug-and-play' device that automatically adjusts operating speeds to optimize system efficiency, reducing energy consumption.
Peter Agneborn, global director, HVAC and Commercial Buildings business unit, comments: "We are looking forward to sharing our expanded product portfolio and newest innovations with our customers at ISH. This is a major show in the exhibition calendar and we're planning to provide visitors with interactive exhibits and demonstrations that will support the advancement of our industry.
"The new e-series range of products for example, streamlines several legacy models from around the world into a single, global offering, enabling specifiers to quickly choose the correct Lowara solution for their application, whether in a building system or an industrial site. ISH provides us with a great opportunity to showcase our latest technologies and help visitors to better understand Xylem's solutions for energy efficient systems that maximize productivity and minimize operational costs."
Visitors to the stand will also be able to experience the Lowara ecocirc XL high efficiency commercial circulator pumps, designed for domestic, light industrial and commercial heating solutions. Experts will be on stand to demonstrate the Lowara ecocirc XL plus model's wireless communication capabilities. An optional built-in Wi-Fi-module enables end users to remotely monitor the pump's operating parameters and check for any warning indicators, as well as set the most appropriate control mode depending on time of day or temperature.