Xylem Presents Efficient Large Circulator for Commercial Applications
Xylem is enhancing its popular range of high efficiency circulator pumps with the addition of the Lowara Ecocirc XL range, ideal for commercial applications.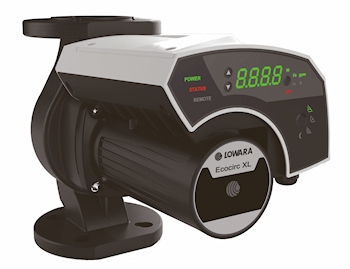 Lowara Ecocirc XL (Image: Xylem)
The new circulator has been designed specifically for applications like heating systems, domestic hot water, cooling systems, solar systems and ground source heat pumps.
The smaller 100 Watt models come as a range of single headed pumps for heating in light commercial applications. Those models utilise a unique spherical motor design and have all the features of Xylem's existing Ecocirc series, including Xylem's unique Anti-Block Technology, but boasts the ability to meet any heating and cooling requirements. They come in a variety of standard connections, all with port to port length of 180mm, ensuring the interchange ability with any common standard market product.
The larger models for commercial applications utilise a canned motor design. The range is made up of models DN 32, DN40, DN 50, DN 65, DN 80 and DN 100, with a port to port length from 220 up to 360 mm. The twin head models DN 32 up to DN 80 both come with port to port length of 220 to 360 mm for heating applications. For domestic hot water applications, single head threaded and flanged connections are also available.
The Lowara Ecocirc XL comes with a variety of control options as standard, constant pressure, proportional pressure or constant curve. The 'automatic night setback' function ensures that the circulator will only increase its performance levels when there is a demand enabling a reduction in energy consumption and costly utility bills. All settings can be done by an easy to use display with intuitive interface design.
Giorgio Menegazzi, Global Product Manager circulators, for Xylem: "Following on from the success of the Ecocirc, we wanted to develop a circulator for commercial applications which could meet heating and cooling requirements across a broad range of applications but still maintain the value and energy efficiency that we have come to expect with the Ecocirc series.
"Our Ecocirc XL offers clear energy efficient features while preventing the risk of burning and avoiding unnecessary incremental works. The new circulator Ecocirc XL is very easy to install, set and use. With this state-of-the art high efficiency circulator, we have reduced the complexity for the user to a new minimum.
The Lowara Ecocirc XL range comes in a total of four model ranges including 18 single head cast iron which boasts a spherical or canned motor design, 8 twin head cast iron and 10 single head for domestic hot water usage. The circulator also has a digital interface to keep the user informed of the pump performance, such as operating or fault mode, flow control and set point. Through an optional wifi-module, additional settings can be achieved through the use of a standard wifi-enabled device, like a smart phone, a tabloid, laptop or PC. A user can access the highly efficient commercial circulator through the use of a smart phone which reduces the need for any additional hardware. A smart phone app is not required as all data and settings can be accessed through a standard browser installed on the wifi-enabled device. Historical pump data, the live situation as well as many additional settings can be easily monitored or modified.
For use in installations with Building Management Services, the range is available with either BACnet or ModBus, with the hardware installed right into the circulator. A PC board with those language capabilities as accessories is therefore not necessary, enabling a quick and easy installation, setting and use.