Xylem Lowara Launches New Range of Advanced Heat Exchangers
Xylem Lowara UK has launched a new range of advanced brazed and gasketed frame plate heat exchangers specifically designed for domestic, commercial and industrial applications.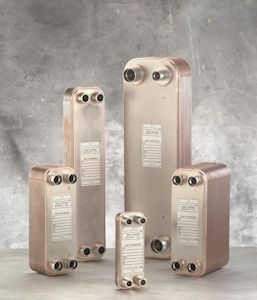 New heat exchangers from Lowara (Image: Xylem Lowara UK)
The new heat exchange plates combine a chevron-style heat transfer between the frame and pressure plates for superior efficiency. The heat transfer plates have holes at the four corners that form a header, which distributes the fluids to the opposite sides of each plate when the plates align. This results in the fluid being confined to the heat transfer surface of the plate.
The new range, which is capable of dealing with temperatures ranging from -350C to 1700C, has a maximum flowrate of 1365 l/sec and can withstand pressures of up to 20 bar as standard. The modular design of the heat exchangers means the inlet and outlet connections are on the same plane, keeping installation and maintenance simple.
Gary Wilde, Business Development and Marketing Manager for Xylem Lowara UK, said: "The new heat exchangers have been designed to offer not only effective re-cycling of waste heat, but also a system which is simple to install and maintain.
"The versatility of the heat exchangers means they are ideal for use in an extensive range of domestic, industrial and commercial applications across the HVAC, food and beverage industry, marine and automotive sectors to name just a few."
With a studded connection which comes in five different options, the heat exchangers require no welding when being assembled or any special tools to tighten the plate pack. The opening and closing of the unit requires no disconnection allowing easy expansion of the piping and the overall unit providing easy access to intricate components.