Xylem Launches New Energy Efficient Multi-stage Pump
Xylem Water Solutions UK has launched its e-HM series; a new energy-efficient range of stainless steel, horizontal and multi-stage pumps ideally suited for commercial, OEM, industrial and residential applications.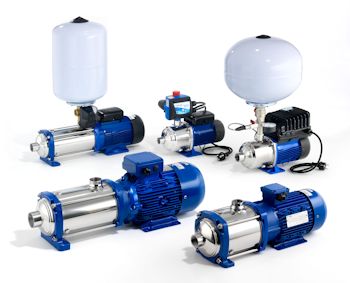 New e-HM series of multi-stage pumps (Image: Xylem Water Solutions UK)
The new industrial e-HM pump is based on the same innovative hydraulic design as the popular vertical multistage e-SV series and has the added ability to improve hydraulic efficiency by 22 per cent to a total of 72 per cent, significantly lowering lifecycle costs and increasing energy savings. These units also have a hydraulic efficiency increase of around 13 per cent more than any other like-for-like manufacturer's units on the market today. The range is compliant with the European Union's Minimum hydraulic Efficiency (MEI) Index.
The e-HM series is available in two distinct designs. The one-piece stainless steel pump body version is ideal for low pressure and flow, while the sleeve design version is ideal for high flow and pressure. Models within the range can be fitted with either a Noryl impeller or 304 or 316 stainless steel impellers, for added durability.
The modularity of Xylem's new e-HM range of pumps will be of huge benefit to a variety of end-users and OEMs due to the range of configurations available. The many configurations include a choice of elastomers and mechanical seal materials, different voltages and a choice of cable gland entry. The e-HM pump can be adapted to meet an extensive range of applications including: water boosting, chillers, heating, air conditioning units, washing and cleaning units; and water treatment.
The e-HM series also provides end-users with an improved 'total cost of ownership' as it can save 30 per cent more energy per annum. The range has an average operational time of at least 20,000 hours in normal conditions and requires minimal maintenance due to its one-piece pump body.
Gary Wilde, Business Development and Marketing Manager at Xylem Water Solutions UK, comments: "We're dedicated to developing superior products which deliver greater efficiency and increased energy savings. The unique hydraulic design and versatility of our e-HM pump means that it is perfectly positioned to meet requirements across a wide range of industries and applications.
"Xylem's highly skilled engineers have designed the e-HM pump to offer low levels of Net Positive Suction Head (NPSH) and a reduced balanced impeller and axial thrust, resulting in a longer motor bearing life.
"The e-HM pump provides a long-lasting solution for leading manufacturers and suppliers across all sectors. Available in two robust and compact designs, the range offers a dual use and ensures the pump can be configured to meet and exceed any customer requirement. What's more, all of our pump ranges are backed by a reliable delivery service."
With 76 different models in the e-HM series, end-users have pump flow rate options ranging from 1 m3/h up to 29 m3/h. Xylem Water Solutions' e-HM pumps all perform to a maximum pressure of 16 bar and a liquid temperature of 120°C. All models use high efficiency, noise-reducing IE3 motors as standard and have a maximum power of 5.5kW.
All pumps in the new Xylem e-HM pump series are available with a variable speed drive option to allow the speed of the pump to be adjusted in relation to requirement "Plug & Play" noticeably reducing energy consumption as well as allowing end-users to regulate their systems.
The range is WRAS approved, has a low carbon manufacturing footprint and the packaging is 100 per cent recyclable.