Xylem Launches New Compact High-efficiency Turbo Blower
Xylem Inc. has unveiled its new Sanitaire TurboLIGHT direct drive turbo blower, a new compact high efficiency adaptation of its renowned TurboMAX blower which is suitable for lower airflow requirements at wastewater treatment facilities.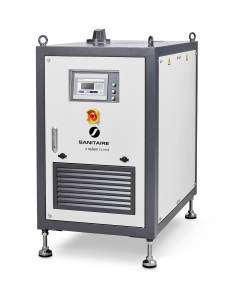 TurboLIGHT (Image: Xylem)
The Sanitaire TurboLIGHT provides a high-speed, quick pay-back solution for smaller applications, while delivering energy reductions of up to 40% when compared to traditional Positive Displacement (PD) blowers.
Sanitaire TurboLIGHT brings all the benefits of Xylem's TurboMAX series to small scale applications for the very first time. Designed with high quality, carefully selected components, Sanitaire TurboLIGHT comes equipped with centrifugal blower technology to provide the ultimate in efficiency. The blower's unique permanent magnet synchronous motor (PMSM) is capable of achieving high rotational speeds with no slip or mechanical losses during operation. The 5-axis impeller, machined from solid forged aluminium, is also directly connected to the blower's motor shaft, resulting in zero transmission losses, while the centrifugal technology eliminates low-frequency pulsating flow of the impeller, ensuring less noise transmission.
Traditional PD blowers run off oil-based systems which are time-consuming and expensive to maintain. Sanitaire TurboLIGHT blowers operate as an oil-free system, significantly reducing maintenance costs, as well as being a more sustainable and environmentally-friendly option. The blower's high-speed motor also comes equipped with enhanced airfoil bearings to eliminate vibration, providing up to 15 years of normal operating conditions before a bearing overhaul may be required.
Commenting on the new product, Magnus Spens, Business Development Manager at Xylem said, "By adding this range of compact high-efficiency blowers to our portfolio, we can cater for customers managing smaller applications who are keen to save money on energy and operating costs. Suitable for lower airflow requirements, the compact Sanitaire TurboLIGHT comes equipped with advanced centrifugal technology to offer unparalleled efficiency at a cost-effective price point – providing faster pay back on investment than most blower technologies on the market."
The Sanitaire TurboLIGHT turbo blower also offers an optimized operator experience; the unit is easy to install and ready to use upon delivery, and it also has user friendly controls, including a Variable Frequency Drive (VFD), a Mi-Com controller with six operational modes, and a colour, touchscreen Human Machine Interface (HMI) for easy viewing and adjustment of parameters.
Sanitaire TurboLIGHT turbo blowers are suitable for use in smaller municipal and industrial wastewater treatment plants. The blowers range from 7.5-37 kilowatts (kW), provide flow rates of 300-2,700 cubic metres per hour, per blower which can satisfy oxygen demands for plants of 2,000-70,000 person equivalent (PE).