Xylem Expands Pump Rental Capabilities Across Europe and South Africa with Multi-Million Euro Investment
Xylem announced that it is expanding its pump rental and service portfolio across Europe and South Africa through a multi-million euro investment. This expansion initiative will enable Xylem to better meet the market demand from construction, industry, municipal and mining customers across both regions.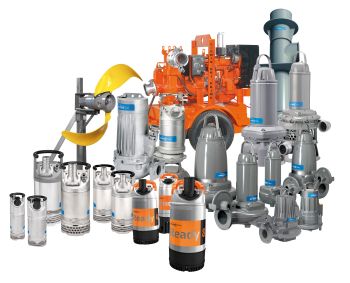 Enhanced water removal portfolio to support communities' urban resilience development (Image: Xylem)
In addition, the investment also supports Xylem's global strategy to help build resilient communities, more prepared to respond to extreme weather events.
The expansion makes thousands of Xylem rental assets available to customers across Europe, positioning the right fleet mix in the right location, at the right time to meet customer needs. The combination of Xylem's market-leading pumps and dewatering expertise will serve customer demand for temporary and long-term rental solutions, as well as emergency response to flooding and weather-related catastrophes. The cost of flood damage across Europe is set to rise fivefold over the coming decades. Increasingly intense downpours driven by climate change will see flood damages rise from €4.5 billion to €23 billion a year by 2050 according to research by VU University Amsterdam published in 'Nature Climate Change' journal.
Xylem is opening expanded pump rental and service hubs in Paris, France; Bremen, Germany and Madrid, Spain that will work in close partnership to serve customers across Europe. A new pump rental and service hub in Johannesburg brings Xylem's 'one-stop-shop' water removal solution to customers across South Africa. In addition to Xylem's extensive pump rental portfolio, which includes diesel and electric surface mounted Godwin pumps, and submersible electric Flygt pumps, Xylem will invest in advanced technologies, such as its Godwin Field Smart Technology, which enables remote monitoring and control for optimal and proactive asset utilisation. Xylem's pump rental portfolio is complimented by extensive capability to develop customised solutions to complex water removal applications.
David Flinton, Senior Vice President and President, Xylem Dewatering said, "We continue to experience increased demand for rental from our markets as more and more customers recognise the value of our rental capabilities – a quick and cost-effective way to tackle water removal challenges supported by Xylem's water transfer expertise. This significant investment in our capabilities in Europe and South Africa will enable us to better meet our customers' needs with timely, turn-key solutions from a single source that reduces customers' administration costs."
Xylem's new Johannesburg, South Africa pump rental hub in Gauteng opened its doors on the 1st of October 2015 – expanding Xylem's global investment into emerging markets and accelerating its rental growth in Africa. The company has expanded its regional footprint with branches currently serving clients in Gauteng, North-West, Western Cape, Limpopo, Eastern Cape and Mpumalanga.
Xylem's Paris pump rental hub caters to customers in the municipal, construction, industrial, emergency and mining sectors. The company has experienced strong growth in its rental offering in recent years and the expansion of this hub will enable Xylem to further grow its presence in the market. For the first time, Xylem's market-leading diesel and electric Godwin pumps are now available to rent in all 11 Xylem branches in France, along with the submersible electrical Flygt pump portfolio.
Xylem's pump rental hub in Bremen serves customers in the municipal, construction, industrial and emergency sectors in Germany, surrounding countries and Scandinavia. The expanded Bremen facility together with the other seven pump rental and service hubs in Germany will meet the growing demand for water removal services.
Xylem's Madrid dewatering rental hub offers advanced temporary pumping solutions and is the leading pump rental player in the country. With more than 2,000 pumps ready for use (Flygt and Godwin diesel and electric engines), Xylem offers a complete rental portfolio and experience tailored to the needs of customers in the municipal, industry, mining and construction and emergency segments.