Xylem Expands Flygt Adaptive Mixers Range With New Compact Model
Xylem announced a package of new innovative additions to its Flygt Adaptive Mixers range. This launch includes the unveiling of unique automation capabilities that will revolutionize wastewater treatment processes and the introduction of a new, high-efficiency adaptive compact mixer.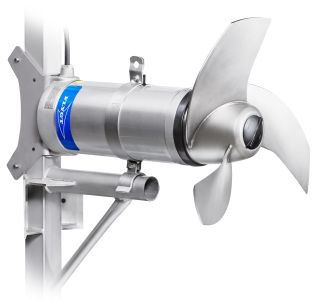 Xylem adds advanced automation to its adaptive mixers for next-generation energy efficiency, reliability and flexibility (Image source: Xylem Inc.)
Automated Process Control for Flygt Adaptive Mixers
Adding to the adjustable speed functionalities of its Flygt Adaptive Mixers, Xylem now introduces full automation capabilities in the mixing process, enabling the mixer to automatically and continuously adjust its output in line with demand. With adaptive mixing, the mixing processes can be adjusted to match the changing needs characteristic of wastewater treatment, due to daily or seasonal variations, new regulations, or unexpected events. Advanced automated process capabilities bring a new level of precision, enhancing the customer benefits in terms of energy savings, optimized treatment processes and ease of use and supporting long mixer lifetime with low maintenance, thanks to reduced wear and tear. This is made possible thanks to advanced, built-in features, among them a patented solution allowing the mixer itself to sense the airflow in aerated tanks and adjust output accordingly and continuously.
Flygt Adaptive Mixers are scalable, so a pre-set or manually controlled Adaptive Mixer can easily be upgraded to full automation at a later stage.
Expanding the Flygt Adaptive Mixers range
Xylem is also launching the Flygt 4230 adaptive compact mixer, adding a higher-efficiency mixer offering to the Flygt 4200 series compact mixer range alongside the Flygt 4220. Including the larger, geared mixer Flygt 4320, Xylem now has a wide range of submersible Adaptive Mixers for different customer scenarios and needs, all based on the Flygt Dirigo technology platform of integrated power electronics, a high-efficiency IE4 equivalent motor, optimized hydraulics and a built-in monitoring system with alarms and overload protection.
Matthew Szurgot, Global Mixer Product Manager with Xylem, said, "With this technology, we offer plant owners and operators simplicity and reliability in their treatment processes, while guaranteeing they can meet all treatment requirements with the lowest possible energy consumption. The mixers can either be fully automated, or easily controlled on a tank-side operator panel or from a control room as part of the plant's SCADA system."
Xylem has also launched the Flygt PP 4230 ultra-low head propeller pump, based on the same design as the Flygt 4230 mixer, and joining the Flygt PP 4220. The Flygt Adaptive Mixers range is available globally. The new Automated Process Control functionality is currently optimized for oxidation tanks, with additional applications in development.