Xylem Captures Top Honors at Ciphex West 2012
Xylem has been selected as the winner of the distinguished Gallery of New Products award in the Hydronic Heating Category for its Bell & Gossett ecocirc auto and vario heating circulators at the recent Ciphex West 2012 show in Vancouver, Canada.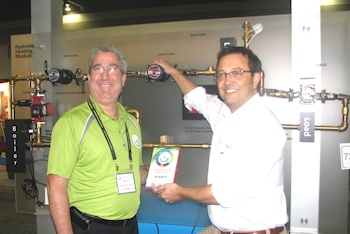 A panel of industry experts judged specific criteria such as sustainability, use of materials in an innovative manner, and energy-efficient design to select category winners. Selected as a category winner from among 56 new products, the ecocirc 'smart' heating circulators were recognized for their revolutionary ECM (Electronically Commutated Motor) technology, energy-saving features and innovative design.
"We are delighted to be selected for this prestigious honor. The unique technology and design we've incorporated into our smart pumps demonstrates our ongoing commitment to developing eco-friendly and energy-efficient products for HVAC and plumbing systems," said Marc Blais, managing director, Xylem Canada.
The 'smart' heating circulators' state-of-the-art technology achieves significant energy savings while delivering water throughout hydronic heating systems. In fact, the 'smart' heating circulators use nearly 70 percent less energy than standard circulator pumps and resulting in the perfect balance of Reliability, Efficiency and Simplicity.
Featuring ECM technology and a patented spherical motor design, the 'smart' heating circulators eliminate the need for a conventional shaft, seal and bearing assembly. The rotor/impeller is the only moving part in the entire pump and it is magnetically balanced on a stationery ceramic bearing inside the pump housing to provide silent, long-lasting operation.
Other features of the ecocirc auto and vario heating circulators include:
Control modes (auto for automatic proportional pressure control and vario for stepless speed control with a constant curve)
Maintenance-free, seal-list, leak-free operation
Resistant to scale build-up to ensure optimal flow and minimal downtime
Self-lubricating and automatically cooled by pump media
Self-realigning bearing, unique to the market
Step-less speed switch with LED for pump status and troubleshooting
Easy to install
Ciphex West is Western Canada's largest expo and conference for plumbing, heating, ventilation and air conditioning organized by the Canadian Institute of Plumbing & Heating (CIPH). The Canadian Institute of Plumbing & Heating is a non- profit trade association founded in 1933 which represents the interests of companies that manufacture, sell, and distribute Plumbing, Hydronic Heating, PVF and Waterworks products and services.
Picture: Ralph Suppa, President and General Manager of CIPH (Canadian Institute of Plumbing & Heating) presents Tim Main, market development manager residential HVAC, Xylem Canada with the Gallery of New Products award in the Hydronic Heating Category for its Bell & Gossett ecocirc auto and vario heating circulators at the recent Ciphex West 2012 show in Vancouver, Canada. (Image: Xylem)