XDS Pump Gains US and Canadian Safety Approvals
BOC Edwards has been awarded UL 3101 and CSA C22.2 1010 approvals for its highly successful XDS range of dry vacuum scroll pumps.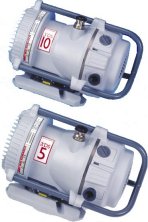 The approvals have been issued by the CSA (Canadian Safety Association) as part of the National Registered Testing Laboratory scheme and are the equivalent of the Laboratory Safety standard EN61010 in Europe.
The XDS5, XDS5C, XDS10 and the XDS10C models of the XDS pump have been accredited, the XDS35i is due to be approved in 2004. The approvals, which are the recognised accreditation for laboratory equipment, ensure the pumps are eligible should the instrument builder plan to gain FDA (Federal Drugs Administration) approval of their equipment.
The patented dry pumping system used in the XDS range provides a hermetically sealed pump, with no bearings or lubrication products in the vacuum environment, eliminating the risk of contamination and removing the usual vacuum pump oil change requirement. Water vapour, the main cause of failure in other small dry mechanisms, is also not an issue for the XDS as it can handle large vapour loads without difficulty.
Other design features on the XDS, such as the unique tip seal material and single sided scroll, make user servicing simple and fast, reduce wear, improve reliability and extend the pump's working life while aluminium construction keeps the pumps lightweight at around 24kg for the XDS5 and XDS10 and 48kg for the XDS35i.