www.abspumps.com Now in 20 Languages
ABS has launched new web sites for a number of their sales companies in keeping with the new marketing concept that started in the spring. The site is available in 20 languages. These pages are a compliment to the current home page of ABS – www.abspumps.com. The new local sites are to assist the local market in knowing what each ABS sales and support office has to offer.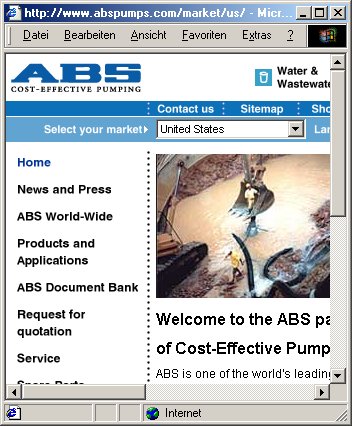 "Our goal with these new web sites is to promote our position as a global and local solution provider in local languages and to assist in bridging language barriers as well as making us more accessible to our customers" says Maria Bergving, Marketing Communications Director at ABS. ABS has a number of projects that are in line with the new "Hands-on know-how" marketing concept. The local web pages being one of them, adding as much as 17 (seventeen) new country sites with local information. The countries included in this stage are:
Austria
Belgium
Brazil
Canada
Denmark
Finland
Greece
Hungary
Ireland
Italy
Netherlands
Norway
Poland
Portugal
Switzerland
Turkey
United Kingdom
The above countries join the already existing web sites of the US and Sweden. The local pages can be reached by going on to ABS' corporate site www.abspumps.com, then using the drop down menu at the top of the page to select the country site that you would like to visit.