World Water Works Announces Updated Dissolved Air Flotation Technology
World Water Works announces the availability of its new www/RESOURCE DAF, a next generation dissolved air flotation (DAF) system with significant performance and cost advantages.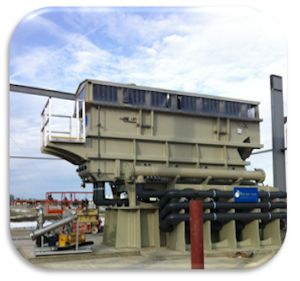 www/RESOURCE DAF system offers performance and cost advantages (Image: World Water Works)
The www/RESOURCE DAF system handles flows from 5-8000 gallons per minute (gpm) and is ideal for industries ranging from food processing, to desalination pretreatment, to textiles, to petroleum, and beyond. Pilot treatment plants are available and thorough bench testing and pilot treatability studies are conducted to guarantee results.
With a high total dissolved solids (TDS) and saltwater tolerance, www/RESOURCE DAF provides the flexibility to not only outperform traditional DAFs, but also ensure longevity. Heavy duty durable polypropylene construction allows operation over a wide temperature range and pH range of 2-13, so the system offers tremendous treatment flexibility. The system's robust patent pending design guarantees low operational and maintenance costs. Consistent and reliable performance ensures compliance with government regulations.
One important feature of the www/RESOURCE DAF system is the DAG (Dissolved Air Generator) technology, which allows the removal of even the finest insoluble materials by generating 5-12 micron bubbles, the finest in the industry. The DAG system also achieves saturation efficiencies that approach 100 percent at low energy consumption. This performance has been documented through upgrades of existing systems that show the new DAG technology improves performance while reducing energy costs by more than 50 percent.
In addition to the system's performance benefits, the www/RESOURCE DAF minimizes the need for chemical coagulants and flocculants. Fewer chemicals, combined with low utility requirements, translates into significantly lower operational costs.