World Hydropower Congress 2021 Ends with Historic Moment for the Hydropower Sector
Last week the 2021 World Hydropower Congress came to an end. The event with more than 6000 participants took place throughout the month of September, under the theme 'Renewables working together in an interconnected world', and the patronage of the President of Costa Rica, supported by Instituto Costarricense de Electricidad.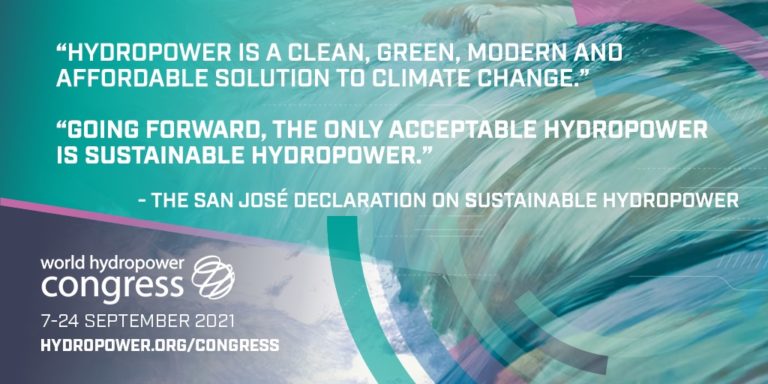 Extract of San José Declaration unveiled during the World Hydropower Congress 2021. (Image source: Voith Hydro Holding GmbH & Co. KG)
The event started on September 7th and culminated in the signature of the San José Declaration on Sustainable Hydropower. It was organized by the International Hydropower Association (IHA) representing public and privately owned developers, operators and manufacturers. For the first time, virtual sessions were held across multiple time zones bringing discussions to stakeholders around the world.
There were several key achievements marking this year's Congress, like:
The publication of the IHA Guide on Hydropower in Protected Areas including a no-go commitment on any future development in UNESCO-designated World Heritage Sites
The launch of the global Hydropower Sustainability Standard and the  declaration of support for this new sustainability certification scheme by leading hydropower companies and international organisations
The urgent call for action on pumped storage hydropower by an international government-led coalition
The collaboration of green hydrogen and sustainable hydropower sectors to achieve net zero
The presentation of extraordinary advances in hydropower supporting renewable power system security by the EU-funded energy innovation project XFLEX HYDRO
Voith Hydro has contributed with high-level speakers on important topics like modernization of hydropower fleets or the future role of pumped storage hydropower. Apart from that, different innovations of the technology group were displayed in the online innovation hub and experts on various topics were available for individual meetings.
Most importantly, the San José Declaration was unveiled recognizing sustainable hydropower as a clean, green, modern and affordable solution to meet the global climate and development goals. The ambitious set of principles and recommendations to guide the future of sustainable hydropower development was handed over to the COP26 President Alok Sharma in order to bring it to the UN Climate Change Conference in Glasgow in November 2021.
It has been drafted and refined through an extensive consultation process that involved over 100 representatives of a wide range of stakeholders, and by the outcomes of multiple forums and working groups: the IHA Charter for Sustainable Hydropower, the Hydropower Sustainability Standard, the International Forum on Pumped Storage Hydropower, the Working Group on Hydropower in Protected Areas, the IEA Hydropower Special Market Report and the IRENA Collaborative Framework on Hydropower.
"The virtual format of the World Hydropower Congress was a valuable opportunity to bring hydropower experts and decision makers from around the world together, taking action to strengthen the sector's performance," concludes Uwe Wehnhardt, President & CEO of Voith Hydro. "This is of great importance, as we finally need to let hydropower play the important role it is supposed to in the fight against climate change."