Wilo Website Relaunched
The website for the pump specialist Wilo will be boasting a new and highly modern design as of 15 July 2013.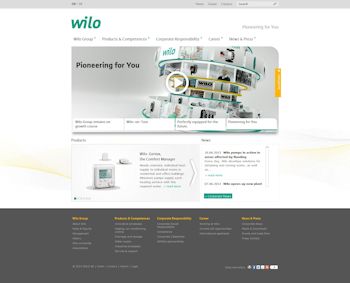 New Website (Image: Wilo)
After being moved to a new server in summer 2012, www.wilo.com is now being relaunched to reflect the pump manufacturer s repositioning. True to the motto "Pioneering for You", the new website is clearly structured and user-friendly. Two clicks are all it takes for the user to access detailed product information from the home page, and all relevant information is quick and easy to find.
In addition to its intuitive operation, the website provides users with structured and highly relevant content and boasts an appealing look which is adapted to Wilo s new brand image. But for Wilo, design isn t everything. Content has to be prepared in a modern way as well. This is why the website not only contains a company history animation but also interactive elements and moving image material such as a page-turning business report and films providing an insight into the development department.
The new website design will be available in German and English at www.wilo.com from 15 July 2013.