Wilo USA Receives Renown Merlin Award
The pump expert WILO SE has just been honoured in the USA as "best innovator" with the Merlin Award. The Merlin Award has been awarded for ten years by the German American Chambers of Commerce and honours outstanding achievements in transatlantic trade relations.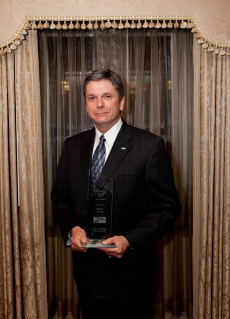 Steve Thompson, Vice President of Wilo USA received the renown Merlin Award
Awardees of previous years were Bosch, Zentis and T-Systems North America. WILO SE, founded in 1872, is considered as the inventor of the first heating pump of the world. "Its innovative power makes WILO SE outstanding" said Steve Thompson, Vice President of Wilo USA. "Environmental and climate protection becomes more and more important especially in the USA. Our products are innovative and particularly energy efficient and decisively contribute in this area. For this reason, we are glad about the award of the chambers of commerce and the related honouring of our efforts."
WILO has been active in the USA since 2004.