Wilo USA Names Ralf Peifer As Director of Service for New Georgia Factory Service Center
Wilo USA welcomes Ralf Peifer as Director of Service for its new Factory Service Center in Thomasville, Ga.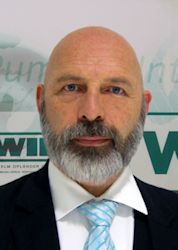 Wilo USA Names Ralf Peifer as Director of Service (Image: Wilo USA)
In announcing the appointment, Mark D Agostino, President and CEO of Wilo USA, said that Peifer will have a key role in establishing Wilo's Thomasville Factory Service Center. "Ralf has extensive, top-level management experience related to wastewater collection and process facilities," said D'Agostino. "He will be tasked with all management decisions within Wilo Service."
Peifer, who is relocating from Germany to the U.S., will be charged with defining all processes and procedures within the service department; assessing and auditing third-party service centers; and managing pumps, parts and service sales through the service centers, among other responsibilities.