Wilo Strengthens Collaboration with Construction Company Goldbeck
On 26 May 2021, the President and CEO of the Wilo Group, Oliver Hermes, welcomed the managing partner of the company GOLDBECK, Jan-Hendrik Goldbeck, at the Wilopark in Dortmund. Together, they affirm their future strengthened collaboration by signing a partnership agreement.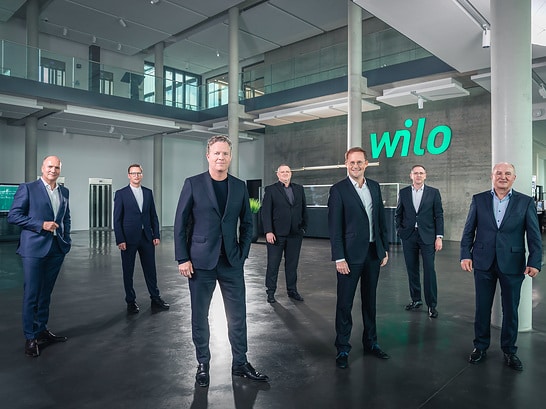 From left to right: Marc Stiebing (Senior Vice President Sales Region Mature Markets WILO SE), Björn Strakeljahn (Key Account Manager WILO SE), Oliver Hermes (President & CEO Wilo Group), Andreas Harnacke (Head of TGA Systems GOLDBECK GmbH), Jan-Hendrik Goldbeck (Managing Partner GOLDBECK GmbH), Georg Weber (Chief Technology Officer Wilo Group) and Gerhard Vogel (Sales Representative DACH WILO SE) after signing the partnership agreement at Wilopark. (Image source: WILO SE)
For many years, the two family businesses have not only been brought together by cooperation based on trust and the proximity of their respective headquarters in Bielefeld and Dortmund, but also by a vision. "In order to offer our customers the best possible service, we want to continuously develop from a component manufacturer into a solution provider. We're delighted to have such a valuable partner as Goldbeck at our side, who shares our values and this vision", says Oliver Hermes.
"Goldbeck and Wilo are united by their roots as Westphalian family companies, but above all by their focus on innovation with the determined will to rethink and improve the established," says Jan-Hendrik Goldbeck.
Goals of the system partnership
Common goals of the strengthened cooperation include the areas of products and system solutions as well as service and exchanging sustainability strategies. Moreover, the aim is to develop joint research and development topics to leverage as much synergy potential as possible. The future field of hydrogen will also play a large role in this regard. "Wilo can play a decisive role throughout the entire hydrogen value chain – in the production, storage, use and distribution of blue and, above all, green hydrogen. Pumps are used everywhere", explains Oliver Hermes.
Successful track record of cooperation
The Bielefeld-based company GOLDBECK has already been impressed with Wilo's innovative and reliable products in various projects. For example, several Wilo-Stratos MAXO have been used in an extension building at the GOLDBECK headquarters since 2018 to heat and cool the office building. They were the first of the innovative smart* pump series used in practice. Thus, these pumps, which are installed in the boiler room, have serial numbers from 1 upwards.
*Wilo understands a smart-pump as a new category of pumps, which goes far beyond high-efficiency pumps or pumps with pump intelligence. The combination of the latest sensor technology and innovative control functions (e.g. Dynamic Adapt plus and Multi-Flow Adaptation), bidirectional connectivity (e.g. Bluetooth, integrated analogue inputs, binary inputs and outputs, Wilo Net interface), software updates and excellent usability (e.g. thanks to the Setup Guide, the preview principle for predictive navigation and the tried and tested Green Button Technology) make this pump a true smart pump.