Wilo-Stratos Series Extended for Commercial Buildings
The German pump expert WILO SE introduced new high-efficiency pumps of the "Wilo-Stratos" series. The wide range was extended by seven further types for connections ranging from DN25 to DN50. They are particularly power-saving high-efficiency pumps with different control options and interfaces to building automation, also for small performance ranges up to a delivery head of 4 m.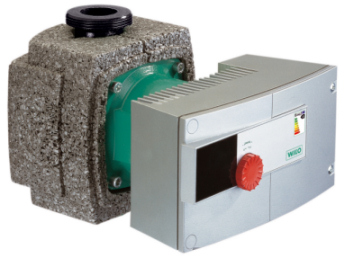 Wilo-Stratos
They may be applied, for example, in smaller heating and cooling circuits in commercial buildings. The range extension allows an easier replacement of old uncontrolled pumps by high-efficiency pumps of the newest generation.
With an interface for a so-called "IF-(Interface-)Module", all "Wilo-Stratos" pumps are suitable for integration into building automation. Pumps can thus be made bus-capable according to today's usual standards (e. g. LON, CAN, BACnet or Modbus). In addition, these high-efficiency pumps have an infrared interface for pump monitoring. This interface allows for wireless reading of all relevant pump data also from a distance to the pump of several metres by means of the remote enquiry device "Wilo-IR-Monitor" or a "Wilo-IR-Module" for pocket PCs. The high-efficiency series "Wilo-Stratos" offers a power saving potential of 80 % compared to uncontrolled pumps and has thus been the reference for the energy efficiency class A for heating pumps since 2001. The pumps can be applied universally. For load adjustment, they can be pre-set to the control modes constant differential pressure (Δp-c), variable differential pressure (Δp-v) and temperature-controlled differential pressure (Δp-T).
Due to the wide fluid temperature range from -10°C to +110°C they are not only optimally suitable for heating systems, but also for the use in cooling and air-conditioning. For this purpose, all "Wilo-Stratos" pumps have a cataphoretic coating as standard. Furthermore, accumulating condensate can be safely discharged via a drain labyrinth.
The cold water insulation shell "Wilo-ClimaForm" is available as a recommended accessory for all high-efficiency pumps of the "Wilo-Stratos" series. It consists of the flexible elastomer material AF/Armaflex which has a high water vapour diffusion resistance and low heat conductivity. The shell system is precisely pre-fabricated and encloses the pump housing accurately without affecting the function of the condensate drain system. Time-consuming cuts are not necessary anymore, whereas the installation takes only a few minutes even in the most difficult installation situations.