WILO SALMSON LAUNCHES CD-ROM
Wilo Salmson, one of Europe's top pump manufacturers, has launched an advanced version of Wilo Select, the CD based expert system aimed at architects, specifiers and the contractors. Designed as a tool to aid specification, the planning software offers the user a plerotha of information on selecting, installing and maintaining Wilo pumps and pumping systems.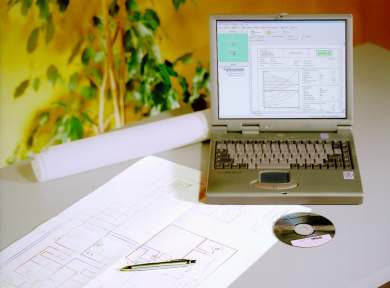 Macht das Wälzen seitenstarker Kataloge überflüssig: Die neue Planungssoftware Wilo-Select Classic 3.0 bietet sämtliche Funktionen, die für die Berechnung, Auslegung und Dokumentation von Pumpenanlagen nötig sind. Als besonderes Extra liefert das Programm
The CD is installed onto a users PC, allowing information to be accessed quickly and easily. Covering all of Wilo's product areas, the user can view pdf files, print off installation and maintenance instructions and view price and technical information that can be automatically updated from the Wilo web site, www.wilo.co.uk. Wilo Select 3.0 also contains 3D CAD drawings, for the first time ever, which can be exported to standard CAD packages.
Wilo Salmson anticipate that the CD will help those in the building services industry to specify the best and most energy efficient pumps possible from their range of heating, waste water and sewage products. Instead of having to plough through manuals and search for information on the best pump for the job, installers will be able to access detailed technical information at the click of a button.
The CD also provides information of Wilo's latest products, such as the Stratos range of environmentally friendly, high-efficiency pumps for heating and cooling, and the new EasyStar - an electronically-controlled circulating heating pump that can cut electricity consumption by up to 50%.
Mark Sowden, Marketing Manager at Wilo explains: " Wilo Select 3.0 is the most up-to-date planning software for pumps and pumping systems. It is also yet another example of how Wilo Salmson is encouraging best practice, energy efficiency and safety."
Copies of Wilo Select 3.0 are available from Wilo Salmson's sales department who can be contacted by e-mail: sales@wilo.co.uk.
For further information, please contact Mark Sowden, Marketing Manager, Wilo Salmson Pumps Ltd, Centrum 100, Burton-on-Trent, Staffordshire, DE14 2WJ. Tel. 01283 523000, Fax. 01283 523099. Email. sales@wilo.co.uk or visit the Wilo Salmson web site at : www.wilo.co.uk
About Wilo Select
The software package was developed by VSX VOGEL - SOFTWARE GmbH, Europe's leading supplier for Windows and web based pump interpretation systems. Wilo-Select Classic 3.0 is a custom-made special development which is coordinated with the product structure of the pump manufacturer exactly. In cooperation with the software partner VSX Wilo provides the international customers with very effective information and planning systems since 1996.
About WILO
Since 1928 Wilo has been developing and manufacturing innovative pumps and pumping systems for technical building services, industry and systems construction. The core product line consists mainly of circulation pumps for HVAC applications, as well as pumps and pumping systems for water supply, rainwater utilization, pressure boosting, and dirt and waste water removal. Sales and customer service are handled worldwide with great expertise by their own employees. Wilo products can be purchased through local HVAC and plumbing specialists.
The Wilo Group with its 2,772 employees had over 432 mil. EUR in sales in the year 2000, and is among the largest pump manufacturers in the world.