Wilo Reopens Facilities in Dubai
Recently, Wilo celebrated the reopening of its offices, showroom and warehouse in Jebal Ali Free zone, Dubai. The company also applied the new corporate design with a new logo and new claim "Pioneering for You".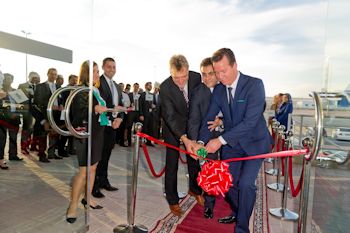 Wilo Middle East
Wilo Middle East has been present in Middle East region for over 20 years through its local distributors. With growing markets in building technologies and the introduction of high-efficiency pumps, the customers' needs for technical support and service become more urgent. This prompted Wilo to have its direct presence in the region by opening the first Middle East office at Techno Park, Dubai in 2006. In 2008, the company moved to Jebel Ali Free Zone, Dubai where it became the WILO SE Group s headquarters for the whole Gulf region as well as Egypt, Yemen and Iran. In November 2010, a new facility in south (JAFZA), Dubai was inaugurated to accommodate regional business expansion and meet growing market demands including a showroom, sales office and the state-of-the-art warehouse. Four branch offices exist in Saudi Arabia, Qatar, Egypt and Iran to provide full local support to customers there.
Wilo develops solutions for obtaining and storing water, as well as supplying it to people, in a sustainable way. Consequently, it became a matter of great concern for the German pump expert to offer the necessary support to areas affected by severe water scarcity problems, by providing its pump technologies. The company crowned its accomplishments in the pump industry by taking a big step forward in the "Hidden Champions 2013" brand ranking undertaken by the magazine WirtschaftsWoche. The Dortmund pump expert improved its position from place 12 to 3 since the last survey in 2011. This study presents Wilo as one of the three most significant brands among the German global market leaders in the capital goods business. It is based on a survey of more than 250 experts, including industry and trade associations, institutes and representatives of the trade press.