Wilo Plug & Play Solution for Reliable Cleaning of Large Heating Systems
It is often a costly, time-consuming task to provide steady and efficient heating in large buildings like hotels, hospitals or schools. So, long service life and reliable, flawless functionality are crucial when it comes to these big, extended heating systems.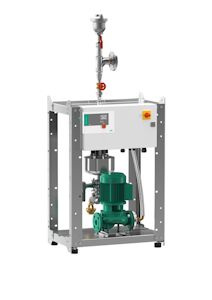 The particle separator system Wilo-SiClean Comfort offers a high level of user-friendliness and efficient cleaning for big heating systems (Image: Wilo SE)
One important factor: the quality of the fluid in the system. In order to ensure high quality, Wilo integrates innovative technology into established pump systems: The particle separator system Wilo-SiClean Comfort offers new, user-friendly options for cleaning the fluid during operation.
Minute particles pose danger to heating system
Often particles are deposited in the pipes of heating systems. These deposits can be magnetic (e.g. bits that have detached from the pipes) or non-magnetic (e.g. sand). Particles in the fluid can lead to erosion of the protective layer of the pipes and might even cause corrosion. Corrosion could also be caused by air or micro-bubbles in the pipes. In the worst case scenario, the particles can lead to a blockage of sensitive components of the heating installation and thus to a breakdown of the heating system.
User-friendly in installation and operation
Wilo-SiClean Comfort is a particle separator system that is integrated into heating systems for automated cleaning. In this case, the glanded pump Wilo-VeroLine-IPL, for example, provides the duty point required for cleaning. "We make use of various physical effects for cleaning," explained Wilo product manager Ioannis Lappas. The fluid is set into centrifugal motion so that the particles can rotate downwards and then collect in the desludging tank. The cyclone created in the separator combined with the vortex effect leads to venting of the fluid and supports the degassing process. "We also remove magnetic particles via so-called magnetophoresis," added Lappas. "Wilo-SiClean Comfort also offers a high level of user-friendliness due to the fully automatic, individually adjustable disposal of particles collected in the desludging tank." The integrated SmartControl switchgear can be used to adjust for how long and how often the collected particles should be removed. "We designed the system as a 'Plug & Play' solution - so even installation is as user-friendly as possible," explained Lappas.
Sustainable protection of heating system due to efficient cleaning
The basic model Wilo-SiClean was optionally developed in addition to Wilo-SiClean Comfort and is also designed for optimised cleaning efficiency. In order that optimum cleaning efficiency could also be guaranteed in this particle separator, physical effects such as gravity, filtration and magnetic effects were combined. The Wilo-SiClean is a manually adjustable system that is cleaned by flush valves and is fitted with a small circulation pump, for example the Wilo-Yonos PICO. "Reliable Wilo-SiClean technology provides an affordable alternative for continuous removal of magnetic and non-magnetic particles, as well as air and micro-bubbles," added Ioannis Lappas. "Both models thus ensure protection and reliability for the operation of heating systems."