Wilo Opens New Assembly Plant in Malaysia
As one of the world's most important growth regions, Southeast Asia offers a huge expansion potential for the Wilo Group, not only for the Building Services market, but also for the Water Management and Industry sector.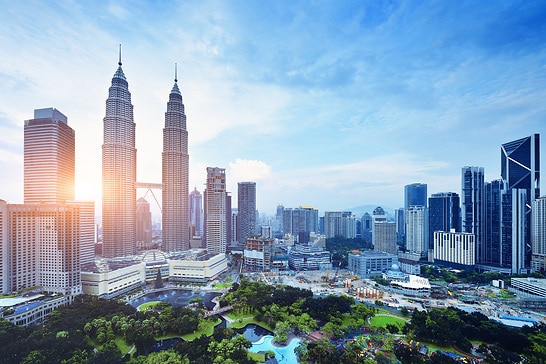 Wilo has opened a new assembly plant in Kuala Lumpur, Malaysia. (Image source: Stock Foto Malaysia)
Malaysia - Dreh- und Angelpunkt für die Region Südostasien
Mit einem neuen Werk in Kuala Lumpur, das als Plattform die gesamte Region Südostasien (SEA) mit Wilo-Pumpen versorgen wird, hat die Wilo Gruppe nun in den strategisch wichtigen Standort Malaysia investiert. Malaysia als prosperierendes Land bietet mit seiner Anbindung an alle SEA-Regionen nicht nur infrastrukturell eine hervorragende geografische Lage; als Mitgliedsstaat der RCEP (Regional Comprehensive Economic Partnership) profitiert Wilo dort auch von Synergien der Handelsabkommen zwischen den einzelnen Mitgliedsländern.
Ein wichtiger Schritt, um die Marktposition der Wilo Gruppe in Südostasien weiter zu stärken
Jens Dallendörfer, Senior Vice President Sales Region Emerging Markets der Wilo Gruppe und Vorstandsmitglied des Ostasiatischen Vereins betont, wie wichtig die asiatisch pazifische Region – in der immerhin ein Drittel der Weltbevölkerung lebt – für die Wilo Gruppe ist: "Mit der Plattform in Malaysia investieren wir in den Dreh- und Angelpunkt dieser strategisch wichtigen Wirtschaftsregion. Dies ist ein bedeutender Schritt, um unsere Marktposition in Südostasien im Sinne des "region-for-region"-Ansatzes der Wilo Gruppe weiter zu stärken und vom erwarteten Wachstum in den entsprechenden Geschäftsbereichen zu profitieren. Dabei verfolgen wir konsequent das Ziel, mit unseren lokal gefertigten Produkten regionale Kundenanforderungen zu erfüllen."
Vignesh Nathan, Managing Director Malaysia und Region Group Director SEA, bekräftigt: "Mit der Investition in die neue Fertigungslinie haben wir den Grundstein für den Ausbau unserer lokalen Wertschöpfung und die Beschleunigung der Exporte in die Nachbarländer gelegt. Darüber hinaus werden wir hiermit die Sichtbarkeit der Marke Wilo in der Region erhöhen und uns stärker am Markt positionieren. Wir sind alle hochmotiviert und erfreut über das Vertrauen, das die Gruppe in das lokale Team setzt. Diesen positiven Impuls wollen wir mit in die kommenden Monate und Jahre nehmen, um unseren profitablen Wachstumskurs fortzusetzen."
Kurze Aufbauphase trotz pandemiebedingter Herausforderungen
Trotz einiger pandemiebedingter Herausforderungen konnte das Werk innerhalb von nur eineinhalb Jahren aufgebaut werden. Eine herausragende Leistung des Teams vor Ort, denn der neue Standort verfügt nicht nur über Büros mit speziellen Trainingsräumen, sondern auch über eine moderne Fertigungslinie und einen eigenen hochmodernen Prüfstand. Die ersten Pumpen der Baureihe Atmos GIGA-N sind bereits vom Band gerollt, bis Jahresende wird zusätzlich der Startschuss für die Produktion der vertikalen Druckerhöhungsanlagen erfolgen.
Eigener Prüfstand überwacht Qualitätsstandards
Ein besonderes Highlight des neuen Standorts ist der eigene Prüfstand für Normpumpen, mehrstufige vertikale Inline-Pumpen, Druckerhöhungsanlagen, Feuerlöschanlagen und Splitcase-Pumpen. An diesem wird die Funktionalität der einzelnen Pumpen direkt vor Ort gemäß ISO 9906 überprüft. Damit stellt Wilo höchste Qualitätsstandards sicher und entspricht damit auch der eigenen "Null-Fehler-Toleranz" der produzierten Pumpen.