Wilo Is Continuing to Invest in the Growing Asian Market
A new production facility of Wilo was opened in Beijing on 11 October, the 40th anniversary of the assumption of diplomatic relations between China and Germany.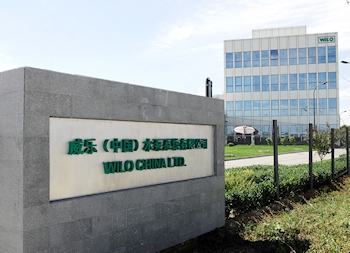 Since 1995 the Wilo-group has been present in the Chinese market. At present, about 900 people work in China for Wilo (Image: Wilo)
The Dortmund-based group of companies is one of the leading manufacturers of pumps and pump systems for heating, cooling and air-conditioning, water supply and sewage disposal, and is thus reinforcing its commitment to the Asian market.
The new plant means that the floorspace available to Wilo's Chinese subsidiary in Beijing has been increased to 20,000 square metres. In total, the Wilo Group has invested more than EUR 24 m here. At present, about 900 people work in China for Wilo, and the company has been present in the Chinese market since 1995.
"The Asia-Pacific region is currently the most dynamic economic region in the world," emphasises the CEO of the Wilo Group, Oliver Hermes. "This explains why Asia, and China in particular, plays an important role in our growth strategy. With this new, highly modern production facility in Beijing, Wilo is taking account of the current economic situation."
The company is regarded as a pioneer of highly efficient technology in the pump industry. Furthermore, as part of the construction of the new production building, attention was paid to sustainability and complying with the highest standards of energy efficiency and environmental standards: A special coating on the floor and roof surfaces reduces CO2 emissions. Energy consumption is kept as low as possible by means of high-efficiency pumps for heating and cooling from in-house production, use of solar power, heat pumps and sewage treatment combined with intelligent lighting and ventilation systems as well as appropriate thermal insulation.
The Wilo Group is active on all continents and, through the new plant, intends to build on its market position in China, as well as being able to supply its customers in Asia more rapidly.