Wilo Goes Interactive
Wilo, Europe's leading manufacturer of pumps and pumping systems, has launched a new fully interactive website, www.wilo.co.uk .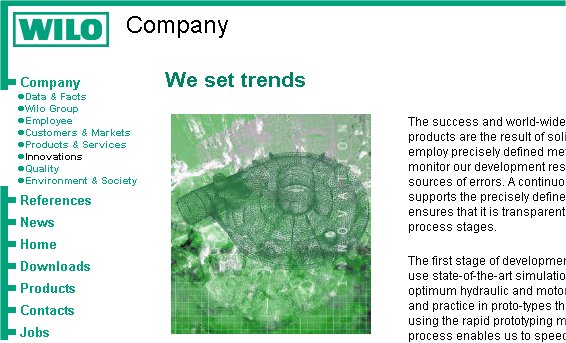 Straightforward to use, it is designed to give installers and specifiers access to a wealth of Wilo product knowledge and extensive corporate information at the touch of a button.
Detailed sections provide thorough, jargon free information on the entire range of pumping, lifting, boosting and circulating systems, while clear and concise menus separated into several logical sections including 'company', 'references', 'products' and 'news', are further subdivided making information simply accessible and easy to find.
With the added benefits of an archive of the company's recent press information, a list of references and downloadable instruction manuals and information guides, the website provides unparalleled support and information for purchasers and installers alike that can be easily accessed from any internet based PC.
The Wilo interactive website can be used alone or in conjunction with the Wilo document archive CD and removes the necessity of storing and carrying bulky manuals and guides, with the added advantage of being constantly updated.
For further information, please contact Penny Bryan,
Quality Manager,
Wilo Salmson Pumps Ltd,
Centrum 100, Burton-on-Trent, Staffordshire, DE14 2WJ.
Tel. 01283 523000, Fax. 01283 523099. Email. sales@wilo.co.uk or visit the Wilo Salmson web site.