Wilo Boost Ireland's Tallest Hotel
Wilo Engineering Ltd. has recently supplied the water boosting equipment and heating circulating pumps to the newly constructed Clarion Hotel at Steamboat Quay, Limerick.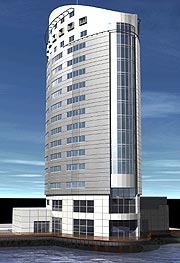 As the tallest hotel in Ireland, the € 20 million development designed by Murry O'Laoire architects has become a major new landmark on the river Shannon waterfront. The 92 bedroom hotel which rises to 17 storeys, towers over the existing Limerick skyline and is due to open shortly.
Circulators from Wilo's TOP SD twin pump range were installed on th LPHW heating system and TOP Z bronze pumps are used for secondary hot water return. The water booster set is from Wilo's sucessful COe range, using MVI 1600 stainless steel vertical multistage pumps.