Wilden Pumps Meet the Needs of Industrial Wastewater Handling
Wilden is pleased to announce that its Advanced Series Air-Operated Double-Diaphragm (AODD) Pumps feature a series of operational benefits that make them ideal for use in the handling and treatment of wastewater that is a by-product of industrial operations.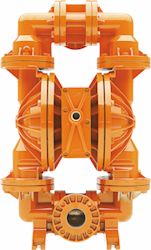 Wilden Pumps
Advanced Series pumps, which are available in metal or plastic materials of construction, offer a redesigned liquid path and leak-free bolted construction to provide superior transfer of fluids that may contain particulates or abrasive compounds. Wilden Advanced Series pumps can also overcome the dead-heading that can occur during filling operations, which motor-driven pumps cannot complete effectively.
Advanced Series metal pumps are offered in die-cast aluminum, stainless steel and alloy C, while the Advanced plastic pumps are available in polypropylene and PVDF. Both types are available in 6 mm to 76 mm (1/4 in. to 3 in.) sizes with flow rates from 16.7 L/min to 999 L/min (4.4 gpm to 264 gpm) and the ability to handle solids ranging from 1.6 mm to 51 mm (1/16 in. to 2 in.) in size. A variety of elastomer options, including rubber compounds, thermoplastic materials and PTFE (Teflon), is available to meet all abrasion, temperature and chemical-compatibility concerns.
Advanced Series pumps also benefit from Wilden's Pro-Flo X Air Distribution System (ADS), which delivers cutting-edge operational flexibility through its patented Efficiency Management System (EMS). The EMS allows the user to optimize the ADS for any application demands, regardless of pump size, through the use of a control dial that enables the flow rate that best suits the specific application to be manually selected. Advanced pumps are also now available with full-stroke PTFE diaphragms that deliver increased product displacement per stroke, resulting in greater flow rates and higher efficiencies.