Wilden Presents New Pro-Flo Shift Air Distribution System (ADS)
At this year s 17th International Exhibition for the Chemical Science and Industry (KHIMIA 2013) Wilden will be featuring its new Pro-Flo Shift Air Distribution System (ADS).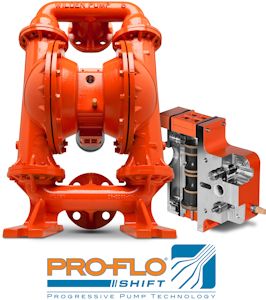 Pro-Flo® SHIFT Air Distribution System (ADS) (Image: Wilden)
Thanks to its new design, the System allows Wilden air-operated double-diaphragm (AODD) pumps to achieve up to a 60% savings in air consumption over all competitive air-operated double-diaphragm pump technologies, while providing more product yield per standard cubic foot per minute (SCFM). The Pro-Flo Shift ADS is available for use in Wilden Advanced Series bolted and Original Series clamped air-operated double-diaphragm pumps, and its robust design makes it ideal for use in harsh operating environments and includes ATEX compliance for use in potentially explosive atmospheres. Wilden will also be displaying its Advanced Series air-operated double-diaphragm Pumps. Due to its bolted configuration, Wilden Advanced Series pumps ensure total product containment while the redesigned liquid path reduces internal friction to maximize output and efficiency.