Wilden Launches Velocity Series AODD Pumps
Wilden is pleased to announce the availability of its new 6 mm (1/4") Velocity Series AODD pump. Featuring the industry's first detachable mounting foot, the Velocity Series pump provides adaptable mounting capabilities making it the ideal solution for all small-dosing applications.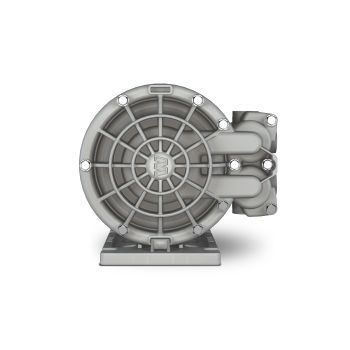 Wilden
Thanks to a unique and versatile design, the Wilden V2550 Velocity Series pump can quickly and easily be reoriented by loosening a single screw. This design provides the user with multiple mounting options while allowing the pump to perfectly fit into restricted spaces, a critical consideration for OEM systems and skids. The pump's design also eliminates the effects of torque decay and delivers improved dry suction lift at all operating parameters for better priming under a wide variety of system conditions. Additionally, Velocity Series pumps feature an interchangeable footprint with competitor and previous Wilden designs.
Velocity Series pumps come equipped with a simple air distribution system (ADS) with only two moving parts that reduce the risk of downtime. Wilden Velocity Series pumps can handle suction lifts from 10-14 feet. These pumps are available in polypropylene and PVDF construction, as well as an Accu-Flo (solenoid) option. Additionally, Velocity Series elastomer options include PTFE and Wil-Flex.