Wilden Celebrates 65 Years of Simple, Reliable & Efficient AODD Pump Technology
Wilden, part of PSG, a Dover company is pleased to announce that it is celebrating its 65-year anniversary in 2020.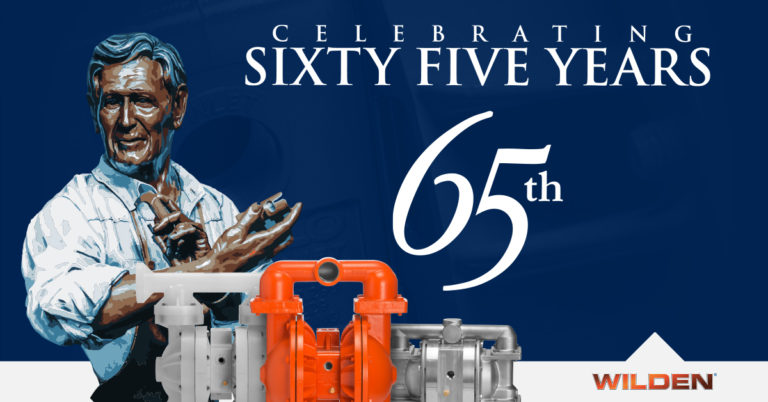 Wilden Celebrates 65 Years of Simple, Reliable & Efficient AODD Pump Technology. (Image source: Wilden)
Manufactured in Grand Terrace, CA, USA, Wilden was founded in 1955 by Jim Wilden when he revolutionized the pumping industry and cemented his legacy by inventing the air-operated double-diaphragm (AODD) pump. Since that time, Wilden has been recognized as the global leader in AODD pump technology, providing efficient, reliable and simple solutions for a wide range of applications in the energy, chemical, process, and water & wastewater industries. Wilden became part of PSG in 2008, and now spans more than 160 countries with more than 180 distributors worldwide.
"At Wilden, being simple, reliable and efficient was ingrained into our DNA by our founder Jim Wilden," said Erik Solfelt, Diaphragm Pump Product Director at Wilden. "Incorporating these design qualities into every one of our solutions is key to bringing our brand promise to life, a promise that includes a commitment to the pursuit of excellence, customer satisfaction, innovation, research and development, and market knowledge. It is this promise, along with keeping alive the innovative spirit and customer-focused culture that Jim Wilden left behind, that has undoubtedly made Wilden one of the market leaders in our industry. Celebrating 65 years in business is a testament to the dedication shown by both our employees and channel partners."
As Wilden continues to pursue its commitment to making its products even more simple, reliable and efficient, the company's most recent innovation hits the mark on all three elements. Launched in April 2020, the Wilden SafeGuard is the industry's first AODD Internet of Things (IoT) enabled remote performance monitoring and alert system. This all-inclusive pump-monitoring system remotely tracks, records and alerts customers to key performance indicators – such as leak detection, stroke rate and total stroke count – of AODD pumps during operation. It provides real-time alerts via SMS or email to indicate any noteworthy change in operations that may be a precursor to or indicators of component failure.
Specifically designed to provide maximum performance, durability and cost savings, the comprehensive line of Wilden AODD pumps include the Pro-Flo SHIFT (PS) Series, Pro-Flo Series, Saniflo Hygienic (HS) Pumps, Stallion Mining Pumps, Velocity Compact Pumps, and more. To compliment its leading-edge AODD pumps, Wilden offers a complete line of award-winning air distribution systems (ADS) designed to increase productivity while reducing air consumption and maintenance, including the Wilden Pro-Flo SHIFT. Additionally, Wilden offers a full line of state-of-the-art diaphragm technologies that have been specifically engineered to optimize diaphragm life and decrease maintenance time. Examples include Chem-Fuse, Pure-Fuse, and EZ-Install.
"As the inventor of AODD technology, our pumps and accessories are unmatched in simplicity, reliability, and efficiency," said Solfelt. "They are so simple because they use the fewest total number or parts of any AODD pump in the industry and require the fewest tools needed for repair, making them extremely easy to maintain. They also take reliability to the next level thanks to a variety of design benefits that extend the life of wear parts as well as an ADS that never stalls. Additionally, Wilden pumps set the standard in efficiency because they provide greater flow rates while reducing air consumption at the same time. Wilden pumps, overall, are designed to offer the lowest total cost of ownership of any AODD pump on the market."